LEMMY KILMISTER'S LEGACY LIVES ON WITH A MURAL AT LEMMY'S LOUNGE AT THE SUNSET STRIP'S RAINBOW BAR AND GRILL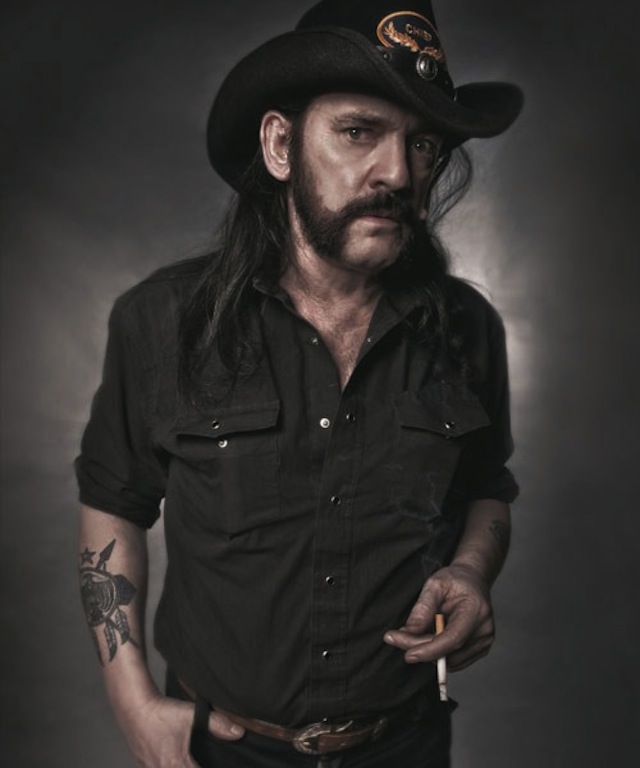 Lemmy's Lounge at the outdoor patio at the world-famous Rainbow Bar and Grill on LA's Sunset Strip, just got a very big addition…a 20 foot high mural of the man himself.
Already situated in Lemmy's Lounge is a bronze statue immortalizing the Motörhead singer. The life-size sculpture — based on a famous Lemmy photograph by Robert John — features shades of black and metallic bronze throughout, with detailed lines and strategic crevices capturing Kilmister's familiar features, from his bristly whiskers to his infamous moles to his signature hat and boots.
The statue, built from a successful crowdfunding campaign, was placed where Lemmy could frequently be found at his favorite hangout when he was in town, Artist Matt Glenn handled the project, using the proceeds from the campaign for materials and donating the rest to cancer research.
In memory of rock's greatest front man, the patio where Lemmy spent most of his life when not on the road or in the studio was dedicated to him by naming this area Lemmy's Lounge, thanks to Rainbow owner Mikael Maglieri.
Roxy owner Nic Adler and Paul Tollett of Goldenvoice subsequently agreed to allow the painting of a celebratory mural commemorating the life of Lemmy and Motorhead on the side wall of the Roxy, opposite Lemmy's Lounge and statue.
Motörhead's management ran a contest seeking a muralist painter to provide their services to paint this immortal artwork in celebration of our fallen hero's life.
The winner was Jules Muck. (Mural created by @Muckrock.) Although it was not known at the time she was chosen, there may have been a divine intervention in her selection, as it was later learned that she was born in the same U.K. town as Lemmy, Stoke-on-Trent, Staffordshire. Like Lemmy, she's now adopted Los Angeles as her home.
Watch a 60 second video below:
Motörhead manager Todd Singerman, said "This is for the fans. Lemmy would always say, at every show, 'We are Motörhead, and we play rock n' roll. Don't forget us.' That's my job now." To that end, the statue and mural appear to be only the beginning of a series of plans to honor the band and its beloved frontman. Singerman's current efforts include working on opening another Lemmy's Lounge as well as a museum dedicated to the group.
Said one fan, "Everyone came to give praise and respect to Saint Lemmy, and that is a beautiful thing. The Rainbow is now a rock & roll church."
In other Motörhead news:
– The Hall of Heavy Metal History inducted Lemmy Kilmister into their 2017 Annual Celebrity Gala and Benefit Concert Honoring Legendary Heavy Metal musicians and Music Industry Executives on Wednesday, January 18th in Anaheim CA. This non-profit organization enshrines forever those legendary musicians, artists, music industry executives, journalists, and producers who are responsible for making Heavy Metal music what it is today. Their contribution to the genre is invaluable, and they keep inspiring Heavy Metal fans throughout the world, from generation to generation.
– With Lady Gaga joining Metallica (who performed as "The Lemmys" as a tribute to him for his 50th birthday) on stage at the Grammys recently, there is talk of a resurgence of heavy metal in the community. Now we hear they may record a song together. Will Lady Gaga's collaboration with her newest fav artist cause a revival?
– Lemmy was always an excellent judge of talent. He signed numerous artists to Motörhead Music. One of the first was Barb Wire Dolls. They've been on tour in Europe, and will continue to do so in May and June. However, they will be performing a residency at the Whisky on the Sunset Strip every Monday night in April before returning to their European tour dates. A video for their song, Heart Attack, directed by Steve Appleford (of Rolling Stone and the LA Times), has gotten great attention.
Another Motörhead Music artist, Budderside, will open for Steel Panther at the Roxy on March 13, and will then hit the road with L.A. Guns.
Lemmy knew what he was doing….