MARILYN MANSON SLAMS JUSTIN BEIBER FOR USING HIS IMAGE ON T-SHIRT, BIEBER SAYS HE MAKING MANSON "RELEVANT AGAIN"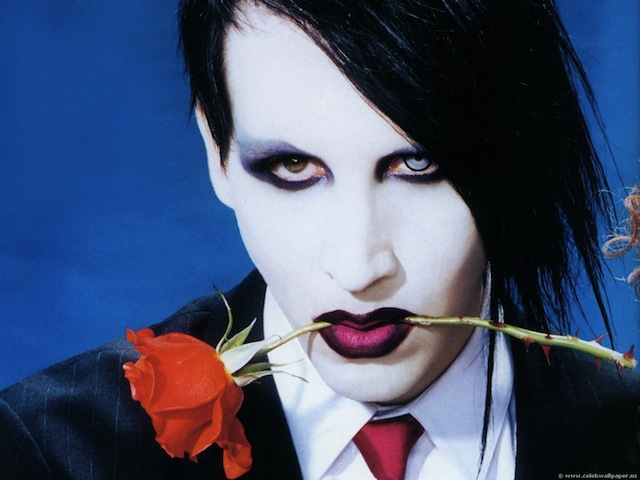 Page Six reports:
Justin Bieber and Marilyn Manson may not seem like the most natural of rivals, but that hasn't stopped them from engaging in one of the more bizarre celebrity beefs of 2017.
The feud dates back to last year, when the Canadian pop star, 23, claimed the shock rocker, 48, had given him permission to use his image on a T-shirt – which has the words "Bigger than Satan … Bieber" embroidered on the back – that Barneys sold for $195.
"Thank you Marilyn Manson for signing off on the 'Bigger than Satan' x Justin Bieber tee," Fear of God's Jerrry Lorenzo, who designed the shirt, wrote on Instagram in July 2016. "Thanks for understanding our approach and re-interpretation of your vision. Never would of thought printing on my vintage T-shirt collection would take us this far."
But here's the problem, Manson told Consequence of Sound he never approved the use of his image and name for the shirt.
According to the rocker, when the two finally met, Bieber "was [already] wearing the shirt that had his name on my shirt, and he said to me, 'I made you relevant again.'"
It's the comment about making the multi-platinum musician "relevant again" that really seems to have set off Manson.
"He was a real piece of s–t in the way he had the arrogance to say that," Manson told the website. "He was a real touchy-feely guy, too, like, 'yo, yo bro!' and touches you when he's talking. I'm like, you need to stand down, you're d–k height on me, OK? Alright? So stand down, son."
To get back at him, Manson then fooled Bieber into thinking he'd appear on stage with him at a concert to perform a duet of the latter's hit "Beautiful People," even though he had no intention of doing so.
"He believed that I'd show up, because he was that stupid," the musician said.
Manson also claims he made Bieber and Lorenzo pay for using his name on the shirt, saying, "They didn't even fight, they were just like, 'Yea, we already know, we did wrong, so here's the money.' "
In addition to the money he presumably made from the shirt, the feud also comes at a good time for Manson. His new album, "Heaven Upside Down," will be released on Oct. 6.
Reps for Bieber and Manson did not reply to a request for comment.
In recent Manson news, the singer is currently streaming a new song called, We Know Where You F–king Live, which appears on his forthcoming album, Heaven Upside Down. The record will be released on October 6th.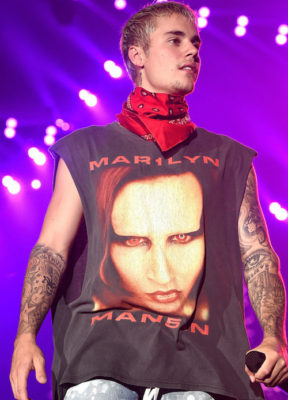 source: pagesix.com