LITTLE CAESAR POST VIDEO FOR "DIRTY WATER" ONLINE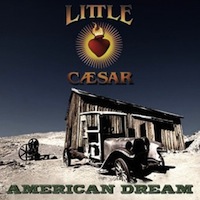 Little Caesar have released a video for Dirty Water, the latest single from their recent album, American Dream. Watch it below.
Best known for their cover of the Aretha Franklin classic Chain Of Fools (see video below), Little Caesar — consisting of Ron Young (vocals), Loren Molinare (guitar), Joey Brasler (guitar), Fidel Paniagua (bass) and Tom Morris (drums) — are getting to ready to embark on a tour of Europe in June.
For more information, please visit littlecaesar.net.