LEMMY KILMISTER STATUE UNVEILING AT THE RAINBOW BAR & GRILL IN HOLLYWOOD, CA, ON AUGUST 24TH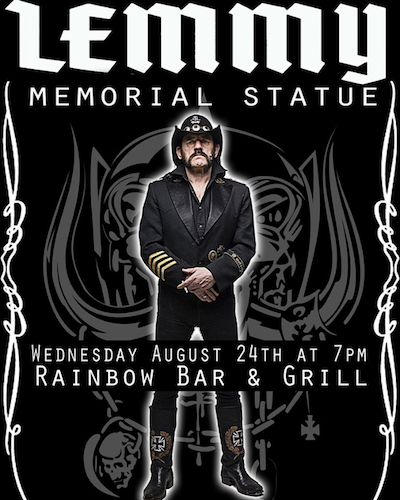 Please join us for the unveiling of the Lemmy Memorial Statue, in honor of Ian "Lemmy" Kilmister
Where:
The Rainbow Bar & Grill
When:
Wednesday August 24th 2016
Start – 7:00 pm
Speeches – 7:30
Statue Unveiling – 8:30
Read more details about the statue at laweekly.com.
Jimi Hendrix, Elvis, Little Richard, Lemmy Kilmister…all great pioneers in music that will forever be associated in history as the founders of a movement called Rock N' Roll.
With Lemmy's passing now less than a year, tributes and honors for him have been coming in worldwide.
On August 24, 2016, Lemmy's adopted hometown of Los Angeles will honor him with an outpouring of love –
– Inside the legendary Rainbow Bar & Grill on the Sunset Strip, they will unveil a lifesize bronze statue of Lemmy, paid for by fans/crowdfunding. It will stand in the bar where Lemmy used to hold court. All fans are invited to attend.
– The Rainbow and The Whisky will have live online streaming of the event starting at 6 30 PM.
– Also the Rainbow remodeled their outside bar, now calling it Lemmy's Lounge. This will be the first of a series of specially-selected locations for "Lemmy Lounges."
– The Roxy next door will have a full Lemmy wall mural.
Elsewhere –
– The Hollywood Vampires dedicated the Motörhead song, Ace Of Spades, to Lemmy at the Grammy Awards. The band continue to play the song on tour, as is Alice Cooper.
– As a special tribute, Slidebar in Fullerton, CA, modified a full size Jack Daniels statue to look like Lemmy.
– Black Sabbath and Slipknot will headline Ozzfest Meets Knotfest, a combination of the two hard rock and metal events that will take place on September 24 and 25 in San Bernardino, California. Both days will feature three stages, with one of them named after Lemmy. The Lemmy Stage will be headlined by Black Sabbath on September 24 and Slipknot on September 25.
– On December 29th, 2015, the day after Lemmy died, the Oscar Blues Brewery in Colorado stamped on all of their cans, "This One Is For Lemmy."
-Plus many more tributes to Lemmy in Europe.