LAST IN LINE, FEATURING CAMPBELL, APPICE, FREEMAN AND SOUSSAN. SHARE NEW SONG "DO THE WORK," NEW ALBUM "JERICHO" TO BE RELEASED ON MARCH 31ST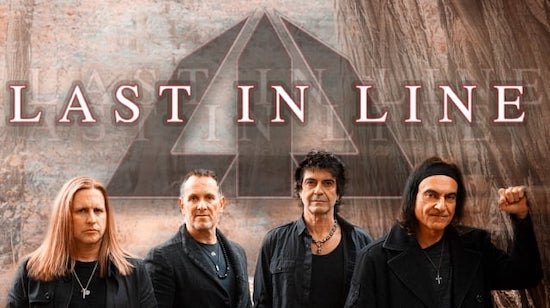 Last In Line — the band featuring frontman Andrew Freeman, bassist Phil Soussan (ex-Ozzy Osbourne),and original Dio members Vivian Campbell (Def Leppard) and Vinny Appice (ex-Black Sabbath) — will release its third studio album, Jericho, on March 31st through earMUSIC. The official music video for the latest single, Do The Work, can be seen below.
"Modern slaves are not in chains / Do you get wet / Or do you feel the rain?" — even though people may not be physically restrained, they can still feel like they are chained to their circumstances. Do The Work is a dynamic and thought-provoking track that encourages listeners to strive for success and self-realization despite any obstacles they may face. The catchy and uplifting chorus invites you to shout along with the band: Do the work.
The Do The Work video, produced by Last In Line, captures the raw energy and unbridled joy of playing heavy music. But be warned: You may find yourself nostalgically reminiscing about a time when great music was the only thing that mattered, and when rock and metal videos were unscripted and genuine.
Despite the past two years of isolation, Jericho was produced in the best hard rock tradition with great studio performances of an excellent all-star lineup.
Campbell explains, "With Last In Line, just as we did with Dio, we cut the basic tracks live. It's important for us to capture the energy of the syncopation of playing together in real time — much like the energy of a live show. This record represents the best of both worlds: the spirit of an energetic band performance, and the more reflective and nuanced qualities of our individual performances, too."
Appice invites us, "All the musical forces of Last in Line are combined here for a super-powerful new record. Press play and put your seatbelts on."
To read more details about Jericho, and to listen to the first track Ghost Town, please click here.
Also the previously posted song, Hurricane Orlagh: