L.A. GUNS POST VIDEO FOR "REQUIEM (HOLLYWOOD FOREVER)" ONLINE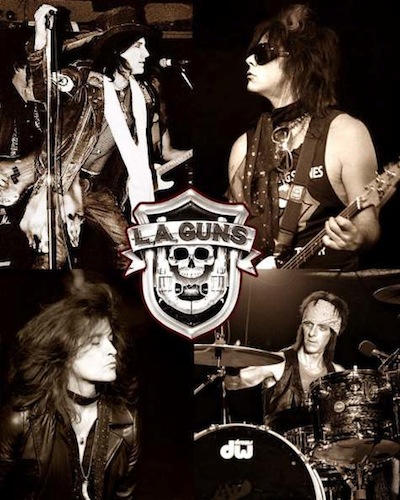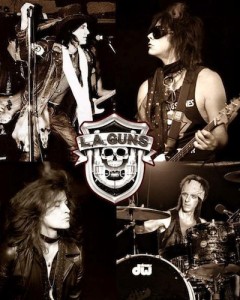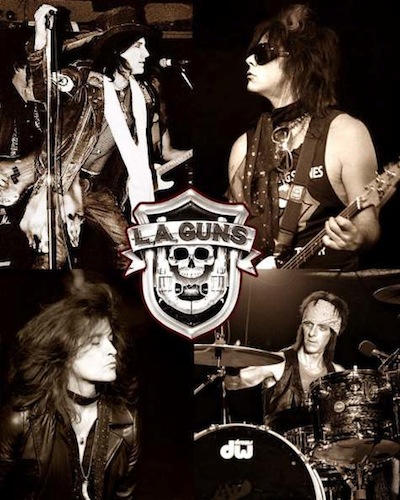 L.A. Guns have released a music video for the song Requiem (Hollywood Forever), from their upcoming DVD/CD release Live In Concert and 2012 studio album Hollywood Forever. View it below.
Live In Concert is a magnificent DVD capturing the recently resurgent golden boys of Hollywood glam metal, and includes a bonus audio CD. The package, scheduled for release on February 12th through Deadline/Cleopatra, features an epic full length concert performance professionally filmed in digital video with multiple cameras at last year's M3 Rock Festival in Columbia, Maryland. Also included is a behind-the-scenes look into the making of the band's most recent studio album, the massively popular Hollywood Forever.
The Requiem (Hollywood Forever) video features guitarist Stacey Blades, who recently left the band due to "extenuating circumstances and musical differences." Stepping into Blades'shoes will be Frankie Wilsey, best known for his work with the Sea Hags and Stephen Pearcy/Arcade.
"L.A. Guns are delighted to announce the new guitarist is our old friend Frankie Wilsey, who we first met back in 2007 when he was playing in Stephen Pearcy's band, Arcade, on the Rock Never Stops tour," said the band in a statement. "Frankie spent more time on our bus than his own, impressing us with hours of classic bootleg videos from the '70s and '80s. He was clearly a rock aficionado, truly a scholar and a gentleman. Frankie's been playing guitar since 1977. He formed his first band, Head On, in San Francisco in '81 and then went on to form the hometown Bay area champions Sea Hags in '88. He moved to Los Angeles in the early '90s, where he teamed up with Stephen Pearcy of Ratt and Fred Coury of Cinderella to form Arcade. In addition to lots of sessions in Los Angeles, Frankie recently toured with legendary singer John Waite and also had a residency in Las Vegas as Joe Perry in the definitive Aerosmith tribute band, Aeromsmith. Frankie joins the band with Guns blazing, ready to tour the world and get involved in writing and recording new original material."
Frankie says, "I met Phil (Lewis) and Steve (Riley) years ago, traveling down this road. Found out they're blessed with classic rock style and a road warrior ethic that is rare in this weakling world of music. I have to say, I think this is a very good match up. Let's hope the fans feel the same."
L.A. Guns began searching for a new guitarist when Stacey Blades announced he was leaving the band in early December. "This isn't an easy announcement but as of this month I will no longer be playing guitar for L.A. Guns," said Blades at the time. "I dearly wish Phil, Scotty and Steve much continued success. It's been a crazy ten year ride filled with some amazing tours, albums and memories to last a lifetime! Due to extenuating circumstances and musical differences I have decided not to continue with the band. L.A. Guns was a dream come true but life is full of new beginnings and journeys. I will be taking some time off and have some different things lined up that I will share with you in the near future. I would like to first and foremost thank the fans for allowing me into your hearts! You guys Rule!! Hope to see you all soon!"
source: sleazeroxx.com