L.A. GUNS' PHIL LEWIS CALLS MOTLEY CRUE'S COVER OF "LIKE A VIRGIN," "HIDEOUS," BAND ANNOUNCES NEW DRUMMER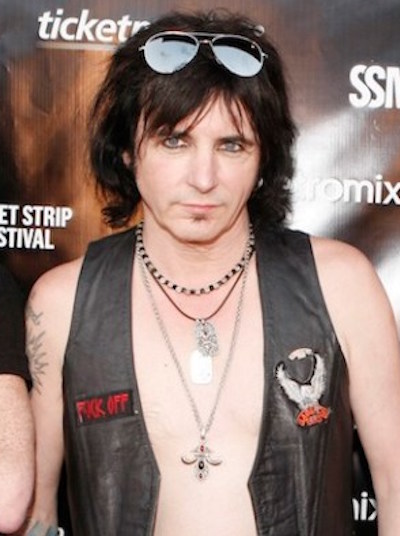 L.A. Guns frontman Phil Lewis recently spoke with Icon Vs. Icon about the fan and media response to the band's' 2017 album, The Missing Peace, and its follow-up, The Devil You Know.
Lewis said, "I think The Missing Peace opened a lot of doors for us and people gave us a second chance when they heard that. We're not fuckin' around. You can hear that. We're not trying to do a country song. We're L.A. GUNS. We're not trying to do some type of crossover or some hideous cover of Like A Virgin. We're doing what we've always done, doing what we do best and it's going down like gangbusters. I don't care what other bands are doing. Good luck to them; that's great. I just care about this one and I'm really happy about the way things are going."
L.A. Guns will be releasing The Devil You Know on March 29th on through Frontiers Music Srl. To stream the song  Stay Away, here.
In related news, L.A. Guns have announced the departure of their drummer, Shane Thomas Fitzgibbon, here is their statement:
"Now that the dust has settled a bit, we wanted to take this opportunity to clear up any misinformation circulating over social media. 
Our brother, Shane Thomas Fitzgibbon, has left L.A. Guns to pursue a wonderful career opportunity that came his way. We totally support his decision to move on to the next chapter in his life, and we couldn't be happier for him. 
Shane, you will always be a part of the  L.A. Guns family, and nothing will ever change that.
We also want to take this opportunity to welcome Scot Coogan to the L.A. Guns family. Scot is an accomplished drummer and vocalist who has played with Tracii [Guns, L.A. Guns guitarist] in Brides Of Destruction, as well as Ace Frehley and Lita Ford, among others. We are excited and fortunate to have him behind the kit replacing Shane."
Fitzgibbon said in a statement: "Sorry about my ridiculously abrupt departure. I have been working with some people part time in the off season that took a real liking to me and made me a life-changing offer that if I didn't take I would have potentially regretted for the rest of my life.
To the band: we f–king rule as a band because you all rule individually and I'm confident that the badassery will undoubtedly continue indefinitely. I am so proud to have been a part of this unit and to have made two bad motherfuckin' records with you. This was seriously the most difficult decision I have ever made. I'm pumped that Scot is on board because he is deserving of you guys, and I hope you keep crushing it to infinity and beyond. You're my brothers, and I don't want that to ever change."
The Devil You Know track listing:
1. Rage
2. Stay Away
3. Loaded Bomb
4. The Devil You Know
5. Needle to the Bone
6. Going High
7. Gone Honey
8. Don't Need to Win
9. Down That Hole
10. Another Season in Hell
11. Boom (Bonus Track – CD & Digital Only)
Follow L.A. Guns online at:
https://www.lagunsmusic.com
https://www.facebook.com/L.A.GunsOfficial/ 
https://twitter.com/laguns
https://www.instagram.com/laguns