KISS' GENE SIMMONS ADMITS THAT HE IS "PECULIAR" AND THAT HE "LOVES THE SOUND OF HIS OWN VOICE"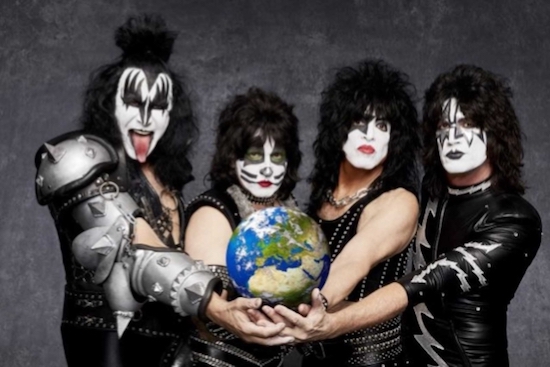 Yahoo! 7 News spoke with members of KISS. Portions of the report appear below.
…At the 69, Gene Simmons is the band's most outrageous character. The other founding member, 67-year-old Paul Stanley, is more reserved – off stage, at least.
"I think there's a time and place for everything," Paul explains. "I prefer to live that time onstage when we're performing. When we're not, I don't give it up."
Gene admits the pair have their differences, and he can drive Paul crazy sometimes. "I'm peculiar," he laughs. "I recognize that. I'm eccentric, I am all about myself, I love the sound of my own voice…"

…"I'd say it's like Ying and Yang," says [drummer] Eric [Singer]. "A battery has a positive side, negative side, and together that creates the electrical energy that is needed for it to power something."
Gene and Paul met almost half a century ago – two Jewish teenagers with little in common except a love of music and a lust for money and fame.
"I was a little unpopular chubby kid with a deformed ear and I'm not very socially skilled," Paul recalls. "I wanted to create this persona that would make me sought after and make the people who I didn't think were nice to me envious. 'Oh, we should have been nice to him…'"
Read more at Yahoo News.