L.A.GUNS HAVE A NEW GUITARIST AND "LIVE" DVD/CD COMING OUT NEXT MONTH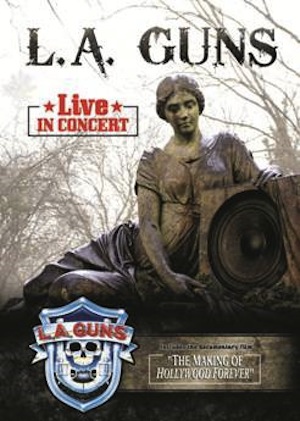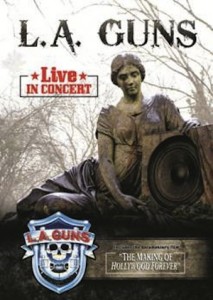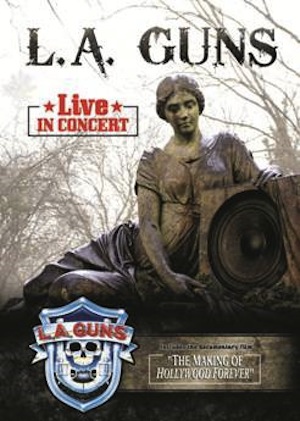 A mere month after being named L.A. Guns guitarist, Frankie Wilsey has been replaced by EndeverafteR's Michael Grant. The former EndeverafteR frontman, who had minor success with the singles I Wanna Be Your Man and Baby Baby Baby in 2007, will made his live debut last night (January 17th) with the band in Illinois.
Said Grant, "It's official! I'm the new lead guitarist for L.A. Guns and we will be touring through Illinois and Michigan starting this Thursday. Check out www.laguns.net for tour dates, tickets and catch me if you can."
Bassist Scotty Griffin added, "Michael Grant from EndeverafteR will be our guitarist starting this weekend in Chicago and Detroit. Is he our permanent guitarist? What happened to the last guitarist? Who's solo album is better, Paul's or Ace's? I can't say… I'm just the bass player. But you heard it here first. Stay tuned…"
Wilsey, best known for his work with Sea Hags and Stephen Pearcy/Arcade, replaced Stacey Blades in L.A. Guns when the guitarist and band parted ways due to "extenuating circumstances and musical differences." At the time Blades said, ""This isn't an easy announcement but as of this month I will no longer be playing guitar for L.A. Guns," said Blades at the time. "I dearly wish Phil, Scotty and Steve much continued success. It's been a crazy ten year ride filled with some amazing tours, albums and memories to last a lifetime! Due to extenuating circumstances and musical differences I have decided not to continue with the band. L.A. Guns was a dream come true but life is full of new beginnings and journeys. I will be taking some time off and have some different things lined up that I will share with you in the near future."
In other L.A Guns news, the will be releasing a DVD/CD package called Live In Concert on February 12th through Cleopatra Records. L.A. Guns provided one of the most talked-about performances at the 2012 M3 Rock Festival in Maryland last May. That full concert was professionally captured in a multi-camera shoot and packaged with behind-the-scenes, studio, and interview extras in L.A. Guns: Live In Concert. Also included are three studio music videos from the critically-acclaimed album, Hollywood Forever. The accompanying CD provides the audio tracks for the M3 concert.
In the bonus material, documentarian Jack Foster interviewed Phil Lewis, Steve Riley, Stacey Blades, and Scotty Griffin about songwriting, collaboration, and the band's rich history. In-studio footage throughout the recording process was also captured, including creative banter with legendary record producer Andy Johns (Led Zeppelin, Rolling Stones, Van Halen). Former L.A. Guns member Kelly Nickels makes a special appearance as well.
Live In Concert track listing:
Live At The M3 Rock Festival:
1. Sex Action
2. Never Enough
3. You Better Not Love Me
4. Sweet Mystery
5. Revolution
6. Sleazy Come, Easy Go
7. Electric Gypsy
8. The Ballad of Jayne
9. Rip N' Tear
Studio Videos:
10. You Better Not Love Me
11. Arana Negra (Black Spider)
12. Requiem (Hollywood Forever)
The Making Of Hollywood Forever:
13. The Beginning
14. Bookends
15. Writing Songs
16. Working Together
17. Time Crunch
18. Phil's Songs
19. Hot Rods & Strippers
20. Treasure Chest
21. Vinyl Spider
22. Hot Take
source: sleazeroxx.com