KURT DEIMER RELEASES PINK FLOYD COVER "HAVE A CIGAR," DEIMER, BON JOVI GUITARIST PHIL X AND BAND, TO TOUR WITH GEOFF TATE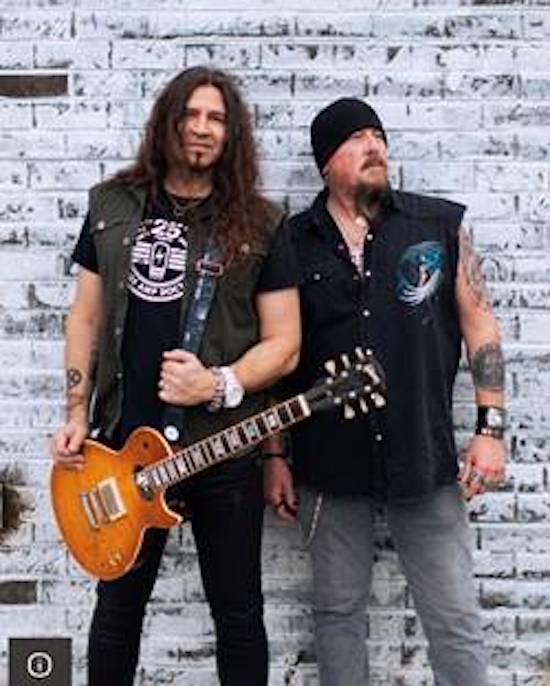 Kurt Deimer is proud to announce the release of his debut single and video, a cover of the Pink Floyd classic Have A Cigar. The release is the culmination of a busy week for Deimer, who revealed his creative partnership with Bon Jovi guitarist Phil X on Monday, and on Wednesday announced he'd be direct support for Geoff Tate on the road this fall. 
Have A Cigar premiered today on the Apple Music "Breaking Hard Rock" playlist, and the video has been unveiled via Kurt Deimer's YouTube channel, but can seen below.
"The song is apropos because, after having been through a lot of trials and tribulations to get to this point, we are all coming together as a team…" says Deimer, quoting the Floyd canon. The song is the precursor to a six-track EP of all-original material to be released this fall, all of which is co-written by Deimer with Phil X and Lord-Alge. "We thought Cigar was a great way to introduce ourselves before we start unleashing our new material in September – not only is it an homage to a band I love, but even more importantly, it's an introduction to a side of Phil X's playing that nobody has seen before. This sets the tone…"   
With Phil X set to officially split his time between Bon Jovi and Kurt Deimer, and Chris Lord-Alge at the helm in the studio, Kurt and his band will embark on their first tour this fall, opening for Geoff Tate. They will hold down direct support duties from September 8th through October 15th, and again November 5th-22nd, when the legendary frontman will be performing the Queensrÿche albums Empire and Rage For Order in their entirety across North America. See the complete itinerary below.
KURT DEIMER TOUR DATES  (Supporting Geoff Tate on the Empire 30th Anniversary Tour)
9.08               Worcester, MA                          Rascals
9.09                Pawling, NY                                Daryl's House
9.10                Homer, NY                                 Center for the Arts 
9.11                New Bedford, MA                    The Vault Music Hall
9.12                New Bedford, MA                    The Vault Music Hall
9.13                Red Bank, NJ                             The Vogul
9.14                Red Bank, NJ                             The Vogul
9.15                Glenside, PA                              Keswick Theatre 
9.16                Warrendale, PA                        Jergel's 
9.17                Harrison, OH                            The Blue Note
9.18                Des Plaines, IL                          The Des Plaines Theatre
9.19                Flint, MI                                     Machine Shop
9.21                Cincinnati, OH                          The Ballroom at Taft Theatre 
9.22                Avondale Estates, GA             37 Main
9.23                Pensacola, FL                            Vinyl Music Hall
9.24                Fort Lauderdale, FL                 Parker Playhouse 
9.25                Clearwater, FL                          Capitol Theatre
9.26                Jacksonville, FL                         Florida Theatre
9.27                Orlando, FL                               Plaza Live
9.28                Gainesville, FL                           High Dive
9.30                Colorado Springs, CO              Black Sheep
10.1                Englewood, CO                         Gothic Theatre
10.2                Albuquerque, NM                    Sunshine Theatre
10.4                Tempe, AZ                                 The Marquee
10.5                Tucson, AZ                                 Rialto Theatre
10.7                Sacramento, CA                        Holy Diver 
10.8                Montclair, CA                            The Canyon Montclair
10.9                Santa Clarita, CA                       The Canyon Santa Clarita
10.10 San Juan Capistrano, CA The Coach House
10.12 Reno, NV Virginia Street Brewhouse
10.13 Fresno, CA Tower Theatre
10.14 Ramona, CA Ramona Mainstage
10.15 Agoura Hills, CA The Canyon
11.05 San Antonio, TX The Aztec Theater
11.06 Houston, TX House Of Blues
11.07 Dallas, TX House Of Blues
11.08 Austin, TX Antone's Nightclub
11.09 Corpus Christi, TX Brewster Street Ice House
11.11 St. Charles, IL Arcada
11.12 Cleveland, OH Beachland Ballroom
11.13 Patchogue, NY Stereo Garden
11.14 Poughkeepsie, NY The Chance
11.15 Dracut, MA The Boat
11.16 Harrisburg, PA HAC
11.17 Dayton, OH Oddbody's
11.18 Wabash, IN Eagles Theatre Honeywell
11.19 Kansas City, MO Knuckleheads
11.20 Wichita, KS WAVE
11.22                Salt Lake City, UT                     The Depot
As an actor, Deimer has appeared in movies including the 2018 Halloween'remake and John Travolta's Trading Paint. The first installment of his Hellbilly Hollow horror franchise – his brainchild that he stars in and executive produces – is currently in post-production, with the sequel already in the works.