KROKUS PREMIERES "DIRTY DYNAMITE" VIDEO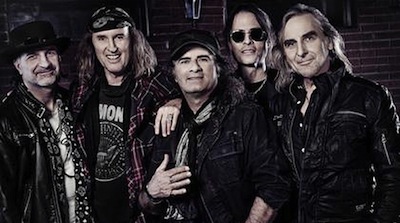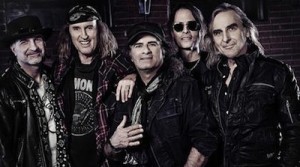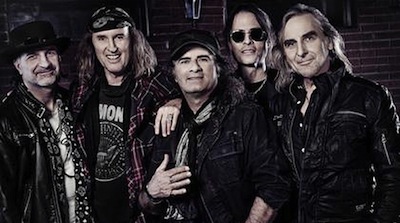 On February 22nd Krokus will release their 17th studio album entitled Dirty Dynamite and they have posted a music video for the first single and title track. Watch it below.
But it hasn't all been one long "high": death, sickness and internal strife have pushed the band to the brink of collapse. The story of Krokus is like no other. Dotted with highs and lows, sell-out stadium concerts and sweaty club gigs, these five musketeers of rock have outlasted trends and survived treacherous US managers, tough splits, bad deals, shady lawyers, drugs, awful fast food, endless bus trips, disco, grunge, grotesque record companies and double-dealing advisors.
Today they are back in their classic line-up — Marc Storace, Chris von Rohr, Fernando von Arb, Mark Kohler, and Mandy Meyer — and are stronger than ever on their new album Dirty Dynamite. Guest musician Kosta Zafiriou plays drums on the entire album. The band spent a whole two years working on the new album under the watchful eye of bassist and original founder Chris Von Rohr.
"We didn't spend all that time on golf courses or tennis courts. No, we just wanted to make the best album yet, the magnum opus of the new Krokus era" says the hit producer. Guitarist Mark Kohler has this to add, "This is not just another Krokus album. I think we have definitely passed another rock milestone with this record."
To reach this goal, no expense was spared. The band booked into the legendary Abbey Road Studios in London. Krokus went back to their roots, back to where it all began with the Rolling Stones, the Beatles, the Free, the Who and the Bluesbreakers. Back to where the band headlined concerts in the Hammersmith Odeon, celebrating their first international success. "The atmosphere there is very special and we wanted to make the most of that," says vocalist Marc Storace. Guitarist Fernando Von Arb is quick to add, "With Dirty Dynamite we have recorded the urgently needed dirty kind of rock that no one plays in this country."
Dirty Dynamite track listing:
1. Hallelujah Rock'n'Roll
2. Go Baby Go
3. Rattlesnake Rumble
4. Dirty Dynamite
5. Let The Good Times Roll
6. Help
7. Better Than Sex
8. Dog Song
9. Yellow Mary
10. Bailout Blues
11. Live Ma Life
12. Hardrocking Man
additional source: sleazeroxx.com