KIX CELEBRATES 30-YEAR ANNIVERSARY OF THE 1988 PLATINUM ALBUM, "BLOW MY FUSE" WITH "FUSE 30 REBLOWN" OUT SEPTEMBER 21ST, PRE-ORDERS AVAILABLE TODAY ON PLEGEMUSIC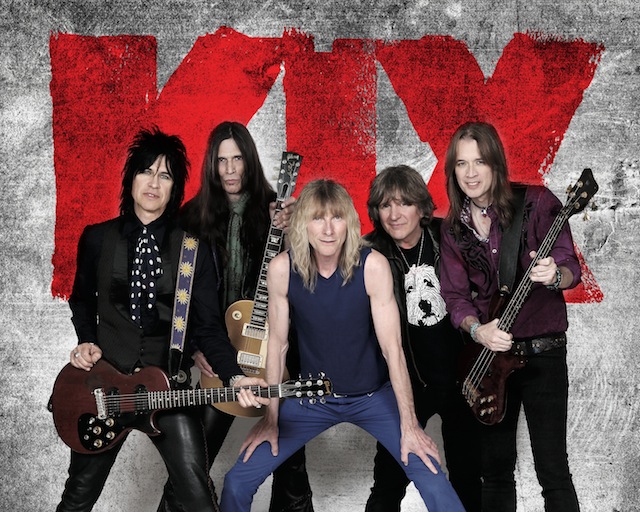 On the 30th Anniversary of their platinum album, Blow My Fuse, Maryland hard rock icons, Kix will release Fuse 30 Reblown-30th Anniversary Special Edition two-disc set on September 21st exclusively on PledgeMusic, exactly 30 years after Blow My Fuse's original September 19th, 1988 release date. Fuse 30 Reblown is available for pre-order now through the band's PledgeMusic store, located here where fans can also purchase special commemorative merchandise including signed copies of the album, t-shirts, pins, and beach towels.
Fuse 30 Reblown Disc one features a raw and impactful remix by Beau Hill (Alice Cooper, Ratt, Warrant, KIX) of Kix's Atlantic Records album Blow My Fuse, and a top-notch mastering job by Jay Frigoletto (Alice in Chains, Tesla). Never-before-released demos of all 10 tracks, recorded in the early to mid 1980's, are on Disc Two and prove how well-prepared Kix were prior to entering the studio to record their albums.
The album Blow My Fuse features the group's biggest hit, the power ballad, Don't Close Your Eyes, which reached #11 on the Billboard Hot 100 in early 1989. The album achieved platinum sales and peaked at #46 on the Billboard Top 200, making it the band's most successful of their 35-year career.
"We are proud to be celebrating the 30-year anniversary of the biggest album of our lives," says singer Steve Whiteman. "We went from clubs to arenas, a van to a tour bus, and from the U.S. to Japan and Europe. And 30 years later, our fans are still right here with us."
Kix gracefully eased back into the public consciousness in 2008. After sold out hometown gigs, the quintet hit the stage at Rocklahoma in front of over 20,000 people, venturing out of the Mid-Atlantic for the first time in 13 years. Delivering a triumphant set alongside Sammy Hagar and Alice Cooper, they left their mark on old and new fans alike. After capturing their fiery reunion on 2012's Live in Baltimore CD & DVD, the members agreed to enter the studio once again.
In 2014, KIX released their seventh full-length album, Rock Your Face Off (Loud & Proud Records) their first studio effort since 1995's Show Business. The album debuted at number one on Amazon's "Hard Rock and Metal "chart, in the Top 50 on Billboard's "Top 200 Albums" chart, #5 on the "Independent Albums "chart, #11 on the "Top Internet "chart, #17 on the "Top Rock Albums" chart, #27 on the "Indy/Small Chain Core Stores" chart and #33 on the "Physical" chart.
KIX last released Can't Stop The Show: The Return Of Kix on October 21st, 2016, a two-disc DVD/CD set that entered the Billboard Top Music Video Sales chart at number three, and rose to the number one position, the band's highest charting debut and first number one ever in their 35-year history. The 71-minute film offered an in-depth look into Kix's decision to record their first new album, 2014's Rock Your Face Off, in almost 20 years.
Fuse 30 Reblown:
Disc 1 – Blow My Fuse remixed by Beau Hill; remastered by Jay Frigoletto
1. Red Lite, Green Lite, TNT
2. Get It While It's Hot
3. No Ring Around Rosie
4. Don't Close Your Eyes
5. She Dropped Me The Bomb
6. Cold Blood
7. Piece Of The Pie
8. Boomerang
9. Blow My Fuse
10. Dirty Boys
Disc 2 – Blow My Fuse Demo Recordings 1984-1987:
1. Red Lite, Green Lite, TNT (6/20/86)
2. Get It While It's Hot (11/10/86)
3. No Ring Around Rosie (1987)
4. Don't Close Your Eyes (11/25/86)
5. She Dropped Me The Bomb (6/20/86)
6. Cold Blood (3/21/87)
7. Piece Of The Pie (6/20/86)
8. Boomerang (3/4/84)
9. Blow My Fuse (9/5/86)
10. Dirty Boys (11/10/86)
Kix will be playing select shows for the rest of the year. And as part of the 30th anniversary celebration of the album, the band is performing the entire Blow My Fuse album from beginning to end at all of their live shows. All tour dates can be found on the band's website and below.
Tour Dates:
Sep 28 @ 80's In The Park – Cocoa Beach, FL
Oct 6 @ Starland Ballroom – Sayreville, NJ
Oct 13 @ 5 South Event Center – Callaway, MD
Nov 1 @ Proof Rooftop Lounge – Houston, TX
Nov 3 @ IDL Ballroom – Tulsa, OK
Nov 10 @ Rockfest 80's – Miramar, FL
Nov 17 @ Tallyho Theater – Leesburg, VA
Nov 23 @ Club XL – Harrisburg, PA
Dec 1 @ Lincoln Theater – Raleigh, NC
Dec 8 @ BLK Live – Scottsdale, AZ
Dec 07 @ Whisky a Go Go – Los Angeles, CA
Dec 15 @ Jergel's Rhythm Grille – Warrendale, PA
Dec 21 @ Brunswick Volunteer Fire Dept – Brunswick, MD
Feb 24 @ Monsters of Rock Cruise – Miami, FL
Kix online: