GUITARIST DAMON JOHNSON DEPARTS BLACK STAR RIDERS, IS REPLACED WITH STONE SOUR'S CHRISTIAN MARTUCCI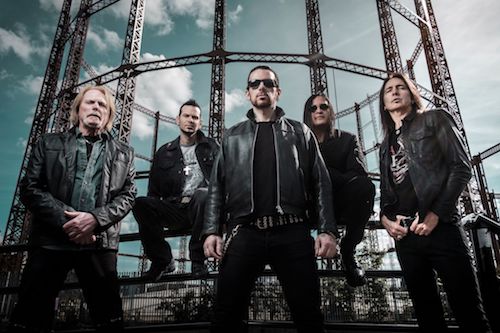 Guitarist Damon Johnson has announced that he's parted company amicably with Black Star Riders.
Johnson says, "Three excellent albums in six years with this great band is one of the proudest achievements of my career, and it has been glorious. My family and I have decided to focus our efforts into growing my solo career and I'm excited to be home more to take advantage of working and writing in Nashville. Though I'm moving on from Black Star Riders, I will continue to work with Ricky in Warwick Johnson and plan on being a part of any Thin Lizzy commitments in the future. Much love and continued success to the entire band and to the incredible Black Star Riders fans worldwide."
Fellow guitarist Scott Gorham says, "I just want to thank Damon for being part of the band and three great records together and I wish him all the best. For BSR it's onwards and upwards!"
Frontman Ricky Warwick says he respects Johnson's decision and adds, "Damon Johnson is my bro and I love him. It's been a wonderful journey for the last six years writing, recording and playing live with him, moulding, building and making Black Star Riders into the formidable force that we have become. He will always be family. I will miss him."
Bassist Robert Crane reports that he's thankful to have "shared this amazing musical journey" with Johnson and adds, "I'm hopeful our paths cross again one day. Love and respect to D.J. and his family."
The band have moved quickly to replace Johnson, and have brought Stone Sour guitarist Christian Martucci into the fold.
He says, "As a fan who's been inspired by their music, it's an honor and privilege to be a part of Black Star Riders. I'm really looking forward to this!"
Warwick calls Martucci "a sonic force of nature, an insanely talented guitar player and a wonderful human being" and reports that he's delighted to welcome him to the band.
Warwick adds, "His musical pedigree speaks for itself. He will be an amazing addition to Black Star Riders, bringing a new edge and dynamic presence to the band. I eagerly look forward to writing, recording album number four and touring the world with him, Robert, Scott and Chad. The best way to predict the future is to go and create it. The best is yet to come."
additional source: Classic Rock via loudersound.com