KISS' GENE SIMMONS WISHES ORIGINAL GUITARIST ACE FREHLEY A "HAPPY BIRTHDAY" AND INVITES HIM TO "JUMP ON STAGE" WITH THE BAND ON THEIR "END OF THE ROAD" TOUR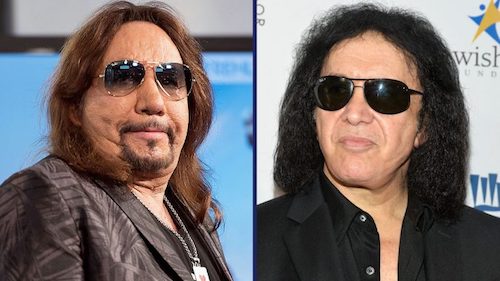 KISS vocalist/bassist Gene Simmons has invited original guitarist Ace Frehley to take part in the band's End Of The Road tour.
Earlier today, Simmons took to his Twitter to wish Frehley a happy 71st birthday, and he added, "The invitations still stand. Jump up on stage with us for encores. The fans would love it."
Three years ago, Frehley said he was open to the idea of playing with his former bandmates, but only if the price was right. Speaking to Rock Candy magazine, he said, "It would be nice to go back out again with them. But it's not my call. I think we have a really good relationship now. I text Paul [Stanley] and forth and we've worked together, as I have with Gene. I would seriously consider it, but the money would have to be right. I'm not gonna take [current KISS guitarist] Tommy Thayer's salary."
"It would certainly sell more tickets with me involved," he added. "I have a gut feeling it will happen."
KISS's current lineup consists of original members Simmons and Stanley, alongside later band additions, Thayer (since 2002) and drummer Eric Singer (on and off since 1991).