KISS' GENE SIMMONS SAYS THAT FORMER BANDMATES ACE FREHLEY, AND PETER CRISS, COULD NOT DO THE ENTIRE FAREWELL TOUR BECAUSE "THEY'RE COMPLETELY UNDEPENDABLE"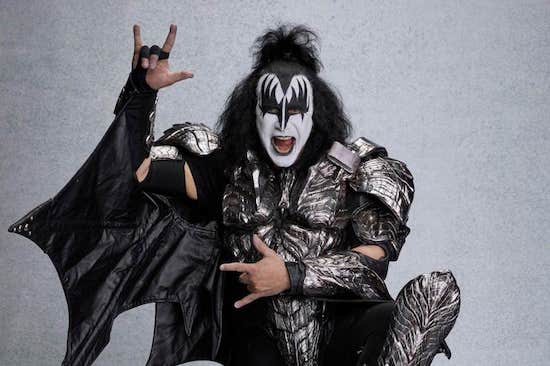 Simon Hemelryk of Go London writes:
KISS bassist, [Gene Simmons] is turning 70 in August and his band's current tour, which arrives at the O2 on July 11th, will be its last.
"It's time," he says. "This tour will take three years and I'll be 72 when it finishes. That's a good point to get off the stage…I'm up there every night in 8in platform boots and 40lbs of armour. I did five-mile walks almost every day for a year to get in shape…"
…KISS…have had a turbulent past, with founding guitarist Ace Frehley and drummer Peter Criss famously leaving the band three times under a cloud of drugs, alcohol and recriminations. There was vague talk of them rejoining for this one last tour. But though Simmons still talks reasonably warmly of them — despite Frehley's recent Facebook outburst where he accused Simmons of groping his wife — that won't be happening.
"They were as important as any one of us in the early days of the band and they've both been invited to come on stage at some point in the tour. But we couldn't do the whole thing with them. They're completely undependable."
Instead, Simmons and Stanley are performing with the altogether more reliable Eric Singer and Tommy Sayer. "Eric's played with everybody: Brian May, Black Sabbath, Alice Cooper, you name it. He and Tommy have a love of labor. They show up on time, do the work and are thrilled to meet the fans. Other members, without naming names, have been miserable."
Simmons had a poor early childhood in Israel before moving to the US, and his mother, Flora, survived a Nazi concentration camp. She drummed into him how precious life is. So while he's had plenty of encounters with groupies, a relationship with Diana Ross and is now married to former Playboy Playmate of the Year, Shannon Tweed, he's been otherwise abstemious. 
"The truth is that no one in the band even smokes cigarettes," he says. "Nobody drinks either. They're just not interested. I've never been drunk in my life. The drug thing isn't a discussion."
So how does he unwind after an adrenaline-fuelled epic gig in front of 20,000 people? "I like cake. I really do. On days off, I binge-watch Game of Thrones…" 
…Will he miss donning the armour and make up to become the Demon? "I don't know," he reflects. "On the day that Superman decides to stop guarding the earth, he's still Superman underneath, but will he miss that outfit? I don't know."
Read more at Go London.