KISS' GENE SIMMONS SAYS FORMER GUITARIST VINNIE VINCENT WOULD "NEVER" BE ALLOWED TO PREFORM WITH THE BAND, BUT ADMITTED HE, AND STANLEY, "LOVE BRUCE [KULICK]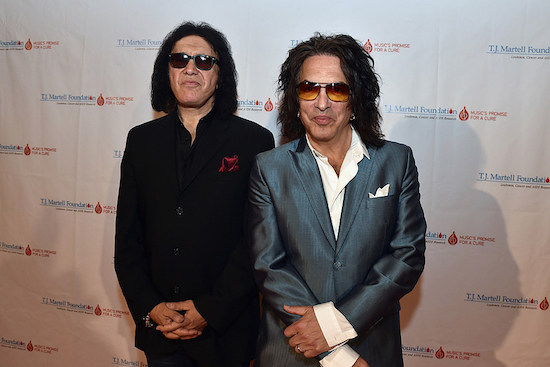 As previously reported, KISS' Paul Stanley and Gene Simmons were interviewed by Guitar World.
In that interview, Simmons made some statements about former drummer Peter Criss, and guitarist Ace Frehely. The remarks resulted in Frehely posting a very scathing retort via his Facebook page.
Additionally, Stanley, and Simmons, also discussed their former guitarists, Vinnie Vincent,, and Bruce Kulick, in the same interview.
Reagarding Vincent joining the band onstage for their farewell tour, Stanley said, "I would say that's not someone who I want to celebrate."
Simmons agreed, saying, "It's worth stating that Vinnie has sued the band and lost 14 times. I'm not here to cast any aspersions. He's a talented guy. That's why he was in the band. But would I depend on him to get up onstage and do anything? Never. Can he come to the shows? Of course! Anybody can. But onstage? Never."
As for Kulick, "Bruce is somebody who shouldn't be overlooked or underestimated as far as his role in the band," Stanley said, with Simmons adding "We love Bruce. He was always professional and showed up on time. … So I can never say anything bad about Bruce."
additional source: consequenceofsound.net