KISS' GENE SIMMONS SAYS CELEBRITIES SHOULD "SHUT THEIR PIEHOLES" WHEN DISCUSSING POLITICS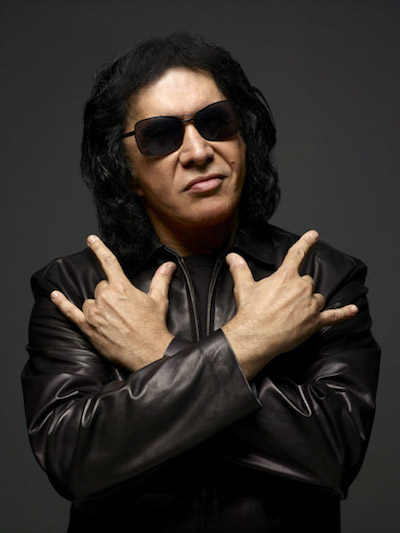 Jon Wiederhorn of Yahoo Music writes:
KISS co-founder Gene Simmons famously appeared with Donald Trump on Season 7 of Celebrity Apprentice in 2008, and says the man he worked with on the show is the same guy running for the Oval Office. "What you see is what you get. He has no filter," Simmons tells Yahoo Music during an interview promoting his band's KISS Rocks Vegas concert DVD, out this week. "I knew him before Celebrity Apprentice, privately in clubs and in social situations. He's the same guy. Some people like it, some people don't. But he is the same guy. I'm not going to say if I think that's good or bad."
Unlike various musicians and actors — some of whom have never even met the current Republican presidential nominee — Simmons believes that celebrities should keep their noses out of politics and focus on being entertainers. "They should all shut their pieholes," Simmons says. "I really believe democracy doesn't work well when celebrities butt their heads into places they don't belong. And what I mean by that is because you've got fans — Katy Perry [who performed for Hillary Clinton at the recent Democratic National Convention], Gene Simmons, Chubby Checker, I don't care who you are — you've got influence, and your fans tend sometimes to do stuff they would normally not do just because they're your fans. I think when celebrities tell you who they're voting for, that rapes the democratic process."
"It's worth noting that when you go into a voting booth there's a curtain," Simmons continues in his typically verbose manner. "It's nobody's damn business who you're voting for. I'd like to think people that are voting are voting their conscience and for that reason I don't think people should care who Gene Simmons is voting for."
Read more at Yahoo Music.
source: yahoo.com/music