AXL ROSE DISCUSSES GUNS N' ROSES REUNION AND EXPLAINS WHY ORIGINAL BAND MEMBERS, STEVEN ADLER AND IZZY STRADLIN, WERE NOT INVOLVED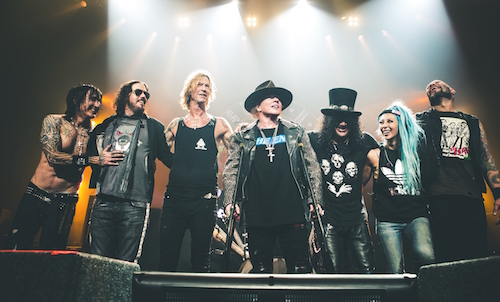 Guns N' Roses frontman Axl Rose revealed in a new Brazilian Globo television interview how he and Slash came to play together again.
Guns bassist Duff McKagan joined Rose for the interview that was filmed before their show in Orlando. Axl recalled asking Fernando, a member of his management team Team Brazil, for Slash's phone number. Alternative Nation transcribed the quotes.
"It had a lot to do with Paul Tollet of Coachella. He started talking about it, it seemed real, so at that point, I just told my people that they could go ahead and start talking to people, and see what's going on. As it became more real, I texted Fernando and asked for Slash's number. Then Fernando texts his Mom and is like: 'If this is a joke, I'm going to kill you.'"
Slash was on tour so it took some time before the two were able to schedule a meeting. They finally caught up in October 2015.
"I called Slash but he was on tour or something. We set up when we were going to see each other, something happened to both of our plans, and that didn't happen. Eventually in October we got together and had dinner at my house."
"Then it was just kind of talking and planning. Initially we were going to do some kind of promos and stuff, then other things came up that got in the way of that. Then there were rehearsals, we went down to rehearsal, and everything just sounded right, and we went to work."
Duff added, "It was just you know, getting into rehearsals it was really just kind of like one day at a time, I don't know that I thought too much about how far ahead, it was just really cool to play some of the music with the guys I was playing it with."
Axl also discussed how the tour came to be.
"It started with talking about Coachella, but at the same time as those talks were starting, there were people involved with Coachella and agencies and things, so they were having these conversations."
"We [all] started talking in the spring [about touring], everybody's people were finding out about possibilities and things like that, and we started talking together in the spring [about touring]."
He also explained why original members, Steven Adler and Izzy Straddling, were not being part of Guns N' Roses' reunion.
"Steven did join us. At the same time I have no idea, when this started Steven had just had back surgery. So I don't have any idea about that. With Izzy, it's something I can't really describe. I don't really know what to say about Izzy. You could have a conversation and think it's one way, then the next day, it's another way. So I'm not trying to take any shots at Izzy, but his thing is his thing. Whatever that is."
additional source: alternativenation.net