KISS ANNOUNCE EPIC NEW YORK CITY TAKEOVER TO CELEBRATE THE BAND'S FINAL SHOWS AT MADISON SQUARE GARDEN ON DECEMBER 1ST AND 2ND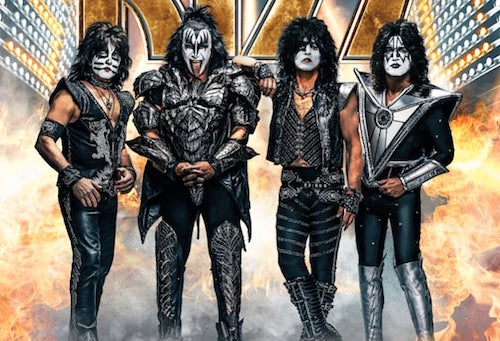 KISS have announced an epic New York City takeover in honor of their final live shows ever, taking place at Madison Square Garden December 1st and December 2nd at 7:30 p.m. ET. To celebrate this historic moment for the most merchandisable band of all time, various takeover activations and experiential events are scheduled across a five-day period. KISS, in partnership with Bravado, Universal Music Group's industry-leading merchandise and brand management company, have carefully curated and developed these events to pay tribute to the band's deep legacy and history with New York City.
KISS said, "We're thrilled to be performing our final shows at MSG since the band originated in New York City over 50 years ago. We are thankful for our long legacy of fans, the KISS Army, and excited to be celebrating through these activations."
Bravado president Matt Young said, "I've been a fan of KISS since I was seven years old, and our team has enjoyed being a part of the KISS franchise for the last 10 years. Bravado is honored to commemorate this extraordinary moment in the band's legendary career by partnering with them to execute this massive NYC Takeover."
The takeover will begin on November 29th with the following activations:
* Kisstore Pop-Up (November 30th – December 3rd) – This immersive KISS experience which will feature memorabilia, apparel, accessories and collectible items from partnerships with Ed Hardy, Oxford Pennant, Trick Or Treat Studios, Funko and exclusive KISS popup store merchandise. Located blocks away from MSG at 248 West 37th Street, New York, NY 10018.
* KISS NYC Takeover Google Map – An immersive Interactive map, built in partnership with Google Maps platform, will let fans easily locate the KISS activation spots pinned throughout the city.
* KISS Metro Cards – Penn Station and Herald Square Station will have 50,000 limited-edition KISS-branded metro cards available for purchase starting Monday, November 27th.
* New York Rangers KISS Game Night At MSG (November 29th @ 7:30 p.m. ET) – The Rangers match-up against the Detroit Red Wings will feature special KISS-themed activities and limited-edition KISS x Rangers merchandise.
* New York Post Activation (November 29th – December 1st) – Find the KISS-branded trikes and brand ambassadors passing out commemorative newspaper wraps and custom KISS cookies.
* Penn Station Digital Ads (November 30th – December 2nd) – KISS's branded digital adverts will run throughout the area.
* KISS Taxi Fleet (November 30th) – One-of-a-kind KISS-wrapped taxis will be driving throughout the city.
* Taxis Digital Ads – 800+ taxis will feature KISS digital tops and special KISS TTV content.
* Peloton – KISS is Peloton's newest Artist Series with classes on the Bike, Tread, Row and App dropping on the Peloton platform November 30th.
* Prince Street Pizza – KISS-themed pizza and collectible KISS pizza box available with all orders of KISS pizza.
* Inked NYC (12/1-12/2) – Complimentary KISS flash tattoos will be available from 11 a.m. to 7 p.m. and face painting from 1 p.m. to 5 p.m. at Inked NYC, located at 150 W. 22nd St.
* RIPNDIP – Exclusive KISS x RIPNDIP merchandise will be available for purchase at the RIPNDIP NYC store at 620 Broadway beginning November 29th.