KISS ADMIRER AND ANTHRAX GUITARIST SCOTT IAN TELLS THE FANS, "STOP QUESTIONING GENE AND PAUL"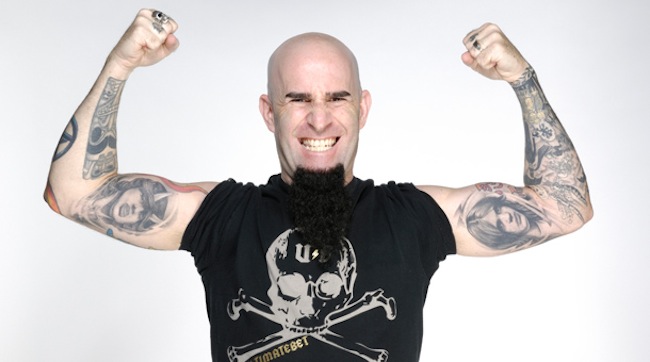 Anthrax guitarist and lifelong KISS fan, Scott Ian, says he trusts Paul Stanley and Gene Simmons to make the right decisions for the band.
Guitarist Frehley was replaced by Tommy Thayer, and drummer, Eric Singer, wears original member Peter Criss' catman makeup, while sitting behind the kit.
Although, Ian thinks Frehley could play with the band, he is not so sure Criss could not properly fulfill the job.
Ian tells 99 Rock (via Blabbermouth), "As a fan, I would love to see Ace Frehley play one more time in KISS. And I'm gonna be completely honest, and this is no knock on Peter, but the last time I saw them with Peter, on the KISS/Aerosmith run, like 13 years ago, the tempos were terrible.
Everything was just way too slow. So if that's the case, no, I don't wanna see that. I wanna see stuff played at the right tempo. If Peter could play it at the right tempo, then more power to him and I would love to see that. Of course I would.
But it's not my band. It's Gene and Paul's band and those guys know what's right for their band. They've proven it. Stop questioning Gene and Paul."
Ian points to the fact that KISS are still a major live draw as proof that Simmons and Stanley know what they're doing.
He adds, "Look, I'm a lifelong fan of that band. But the bottom line is, and what people need to understand is it's Gene and Paul's band. They are the guys that have worked their asses off since 1973 to keep that band, that business moving forward all the way into 2016 and still on the level that they're doing it.
You have no idea what it takes to make a band last that long at the level that Kiss is. So it's their band and it's their decision."
Anthrax are currently on tour in North America in support of latest album For All Kings.
Anthrax remaining tour dates:
Oct 13: Missoula The Wilma Theatre, MT
Oct 14: Idaho Falls Hitt Event Center, ID
Oct 15: Garden City Revolution Concert House, ID
Oct 16: Spokane Knitting Factory, WA
Oct 17: Lethbridge Enmax Center, AB
Oct 19: Penticton South Okanagan Events Centre, BC
Oct 20: Abbotsford Centre, BC
Oct 21: Portland Daze Of The Dead, OR
Oct 22: Sacramento Aftershock Festival, CA
Oct 23: Reno Events Center, NV
Oct 25: Flagstaff Orpheum Theater, AZ
Oct 26: EL Paso County Coliseum, TX
Oct 27: El Paso County Coliseum, TX
additional source: Classic Rock via teasrock.com