KING'S X SIGNS WITH GOLDEN ROBOT RECORDS, NEW ALBUM POSSIBLY DUE NEXT YEAR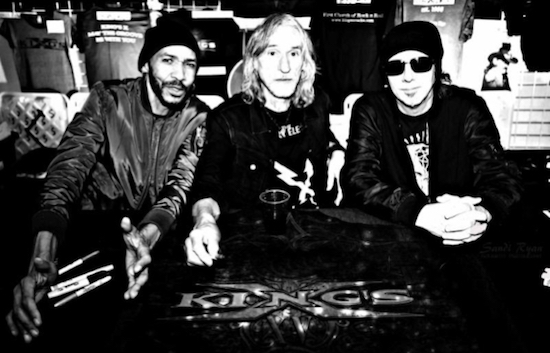 King's X has signed a deal with Australian independent record label Golden Robot Records for the release of the band's next studio album. The follow-up to 2008's XV is tentatively due in 2019 via Golden Robot's partners in the U.S., Europe and Japan.
"I'm really excited to release the next King's X album with Mark, Derek and the crew at Golden Robot. May the groove be with us all," says vocalist/bassist Doug "dUg" Pinnick.
Guitarist Ty Tabor adds, "I'm looking forward to working with Golden Robot Records."
Drummer Jerry Gaskill states, "It's been a while since we've made a record. During that time, I've been thinking, when and if we make a new record, I want it to be the best we can do. I want to believe in it. I want to make it great, whatever it takes. I don't want to just make another King's S X record. I think and hope that we are in that place. I think and hope its time and I feel good about the team we'll be working with at Golden Robot Records. I'm going do my best. Let's do this thing."
Mark Alexander-Erber, Golden Robot founder and president, says, "When we started to talk to King's X about signing with Golden Robot in the U.S. and we met dUg in L.A. a few times, I knew 100% that we would end up working with them. I'm loving the fact they are still the original members and I really believe this new album will be there best yet! It's incredible how many people inside the industry — and I'm talking about very well-known musicians — love these guys and can't wait for a new album. We are all very excited indeed."
Derek Shulman, Golden Robot's executive chairman of worldwide expansion, adds, "I am delighted to finally be able to work with one the most respected, creative rock bands of the past 30-plus years. King's X is not only a superb rock band with an ardent fan base, but are also a 'musician musicians' band. Golden Robot Records is determined to finally help King's X receive the worldwide recognition it fully deserves."
King's X was sidelined by several health scares in recent years, including Pinnick's two hernia operations and two near-fatal heart attacks suffered by Gaskill.