KENDALL AND KYLIE JENNER USE ICONIC ROCK IMAGES TO SELL T-SHIRTS, GET BLASTED, AND THEN APOLOGIZE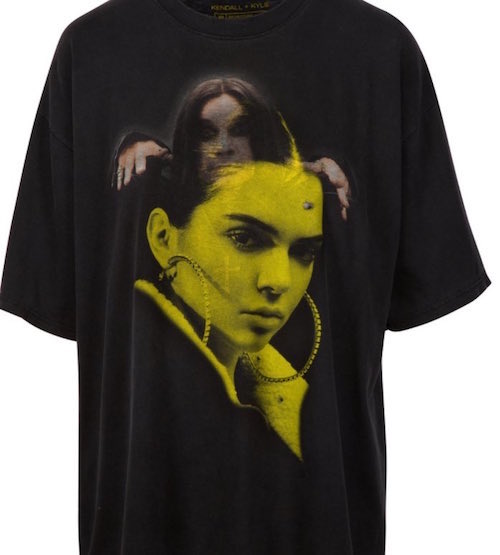 Back in May, the New York Post interviewed Metallica frontman, James Hetfield, and they asked him how he felt about celebrities wearing the band's shirts, as a fashion statement.
Hetfield replied, "I remember when that whole Justin Bieber wearing a Metallica T-shirt went viral, I thought "So what?" This is America, you can wear whatever the f - - k you want. If he doesn't know the history of the band or whatever, it's fine. I wear lots of stuff and I have no idea of the history, I just like the logo…Everyone is welcome here…."
On the heels of that subject, here comes today's story (via blabbermouth.net):
Kylie and Kendall Jenner have apologized for selling "vintage" T-shirts with the pair's faces superimposed over some of rock and rock's biggest icons.
The T-shirts in question were unveiled on the sisters' Kendall + Kylie online shop Wednesday, and featured images of Ozzy Osbourne, Metallica, KISS, Led Zeppelin, Pink Floyd, The Doors, the late rappers, Notorious B.I.G. and Tupac Shakur, overlaid with Instagram shots of the model/reality star siblings.
Voletta Wallace, Notorious B.I.G.'s mother, criticized the Jenners in an Instagram post while a lawyer for the rapper's estate threatened legal action should the shirts, which were on sale for $125 each, continued to be sold on their web site. In the post, Wallace also claimed that they had not been contacted with a request to use his image.
"I am not sure who told @kyliejenner and @kendalljenner that they had the right to do this," Wallace captioned an image of one of shirts with a giant red X emblazoned over it. "The disrespect of these girls to not even reach out to me or anyone connected to the estate baffles me. I have no idea why they feel they can exploit the deaths of 2pac and my Son Christopher to sell a t-shirt. This is disrespectful, disgusting, and exploitation at its worst!!!"
Ozzy's wife and manager Sharon Osbourne posted a scathing tweet in which she wrote, "Girls, you haven't earned the right to put your face with musical icons. Stick to what you know … lip gloss."
Speaking with Rolling Stone, Jeff Jampol, manager of The Doors and the Jim Morrison estate, slammed the pair for their decision to sell the unauthorized clothing. "This is a case of people who fashion themselves as celebrities who are famous for being well-known but don't actually do anything trying to utilize and steal and capitalize on the legacies of those who actually did do something and created amazing art and messages," Jampol said. "It's ironic, at least, and criminal, at worst, both morally, ethically and artistically."
Jampol added the surviving members of the band had "zero contact" with the Jenners.
"They're obviously attention-seeking missiles who crave celebrity and being well-known but don't actually do anything," said Jampol. "It's the polar opposite of the artists that they're trampling all over. It's just spitting in the face and on top of art and message and soul and legacy."
On June 29th, Kendall and Kylie Jenner apologized for the offensive merchandise, writing in a Twitter message, "These designs were not well thought out and we deeply apologize to anyone that has been upset and/or offended, especially to the families of the artists. We are huge fans of their music and it was not our intention to disrespect these cultural icons in anyway [sic]. The tee shirts have been pulled from retail and all images have been removed. We will use this as an opportunity to learn from these mistakes and again, we are very sorry."