JAMES HETFIELD DISCUSSES THE BAND'S GRAMMY APPEARANCE, CELEBRITIES WEARING METALLICA SHIRTS AND HIS HOBBY OF BEEKEEPING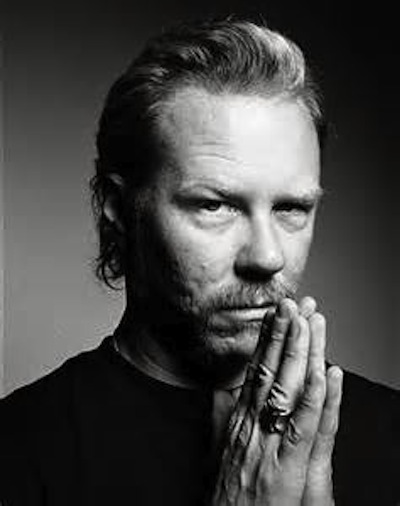 Hardeep Phull of the New York Post spoke with Metallica frontman James Hetfield. The entire interview appears below.
NYP: Last year, Lars talked about his special pancakes that help keep his energy levels up. Do you partake, or do you have your own health silver bullet?
James Hetfield: The Danish chalk-cakes are what I call them. He puts some kind of yogurt in there that's really chalky. They don't taste horrible, but I don't know how you could eat them all the time. Lars has expanded a little now — he is a total foodie. He thinks chefs are the new rock stars. I'll eat pretty much anything in moderation, which is not a word that has been uttered a lot in the Metallica world.
NYP: Metallica's performance with Lady Gaga at the Grammys was a show stealer. Do you think the microphone malfunction made it even more exciting?
James Hetfield: I felt embarrassed — I haven't been that angry in a long time. When something out of my control goes wrong, I still get wound up. I'm sure it taps into other stuff from my past, but I felt helpless. I agree, it ended up being a blessing because I ended up singing in a microphone with Lady Gaga — maybe even more than she wanted. It felt more like a real collaboration because of that.
NYP: You've said that beekeeping is one of your recently developed hobbies. Have you had any mishaps?
James Hetfield: Yeah, there are a few stories. I had to move a hive one time, and one bee got perturbed, and that sets them all off. I'm in my bee suit — everything's fine except I didn't put my boots on because it was hot. One area of my ankle was exposed and, of course, I end up with about 20 bee stings. If one stings you there, they all sense it and swarm there. That was not fun. I just had to throw my foot in a bucket of ice.
NYP: It's so common to see celebrities wearing Metallica T-shirts now. Does it ever bother you?
James Hatfield: I remember when that whole Justin Bieber wearing a Metallica T-shirt went viral, I thought "So what?" This is America, you can wear whatever the f - - k you want. If he doesn't know the history of the band or whatever, it's fine. I wear lots of stuff and I have no idea of the history, I just like the logo. People try to shock me sometimes and they'll say, "My grandma headbangs to your music — and she's 120!," or "I named my baby after you." I'm like, "OK, cool." I'm not surprised that anyone likes Metallica. Everyone is welcome here. From cradle to grave, we've got you covered.
source: nypost.com