K.K. DOWNING, SLASH, CHARLIE BENANTE AND OTHERS REFLECT ON METALLICA'S "BLACK ALBUM"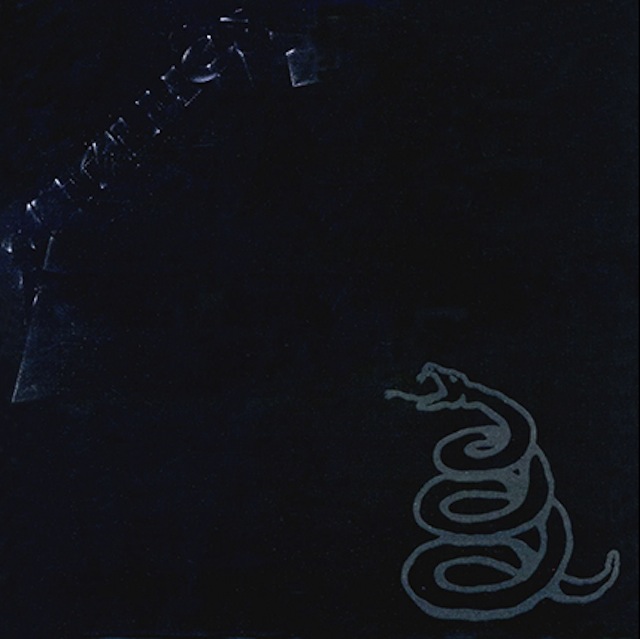 To honor the 30th anniversary of Metallica's eponymous Black Album, Spin magazine spoke with 30 artists, who reflect upon the album's milestone.
Slash:
"I think any Metallica album is a given for a hard rock/metal record collection. They are the pinnacle of that style of music, and they were among the first bands to revolutionize that particular style and sound. But the Black Album crossed over in a way that made them a household name and they achieved that while maintaining their sonic integrity, songwriting and attitude. They took their signature style and recorded an album that became universally accessible, but still fucking cool. That is no small feat and maybe something that artists like Metallica might not even want to do—but it happened on this record. For them, the Black Album's legacy will live on forever.

Charlie Benante (Anthrax):
"Culturally, the Black Album was one that changed things at radio. This was a real heavy metal band, now getting played on the radio, and that opened doors for a lot of other bands to come and steal that sound. That was true, because, maybe a few years after the Black Album, there were a lot of other bands that came out to try and sound like [it]. Some of them had big hits. I also think the production on that album is really good: Bob Rock did an awesome job on that record. My favorite Bob Rock record, the one that I always go to, is Back in Black. I don't know what it is about "black," but it works. I think that record still sounds great.
I think that after …And Justice for All, Metallica was trying to go to the next level and make a change. There's such a drastic change in sound from …And Justice to the Black Album. It's very polished, and I think it was an effort by the band to change. And Bob Rock was brought in to make that change. He made that album sound like a new Metallica, and it really resonated with people. People who never knew who they were, now knew who they were, and they became household names."
[Dana's note: Back In Black was produced by Mutt Lange, not Bob Rock. Some of Rock's other works include: Blue Murder's debut LP, Mötley Crüe's Dr. Feelgood, Little Caesar's debut, etc..]
Rodrigo Y Gabriela:
Rodrigo Sanchez: "I think it's down to the songs. It's just full of classics that stand up to repeat listening year after year. It was a great time for rock: The Black Album, Nevermind and Blood Sugar Sex Magik were all released within a few weeks of each other in 1991. The Black Album is like the monolith in Kubrick's 2001: A Space Odyssey, this massive, iconic slab of darkness that you cannot help being drawn towards."
Gabriela Quintero: "We were Metallica fans since hearing Master Of Puppets in the mid-'80s, and the band were a big influence on us as young musicians playing thrash metal in Mexico City. As a fan, you are always excited to hear what a band does next—you make that emotional investment. With the release of the Black Album, they changed their approach. There was more variety of tempo and it was more melodic. But they still sounded like the heaviest band in the world. As a fan, you went with them down this new road."
K.K. Downing:
"I think every band have had hallmark albums throughout their careers—not to say that the others are not credible and great as well, some of them just jumped out and they're just undeniable. I would certainly say that the Black Album is not something that you can "make" happen. It automatically happens because everybody is just drawn to it and love it.
It's a collection of songs and great melodies that's undeniable. That's the album people look to for their interpretations or renditions. Like if an orchestra wants to do a song or a fan on YouTube wants to do an interpretation with a strange instrument or a piano version. These wonderful melodies lend themselves from this album, and then the songs become even more famous because of all of these interpretations from people all over the world in all of these different countries. With so many great melodies and all of these great songs, that is going to automatically make this album stand out in the catalog of Metallica.
I think it took the diehard fans a bit to acclimatize the fact that [the album] wasn't that rawness they were used to. But with the test of time, when they've seen the band play these songs many times, it fits right in with the early songs."
Read more at Spin.
Metallica's reissue of The Black Album and The Metallica Blacklist, that doesn't even feature the band but their music – 12 songs covered by 53 artists – are out today (September 10th). Read more details about this special release, here.