K.K. DOWNING SAYS IAN HILL'S COMMENTS AS TO WHY HE WAS NOT ASKED REJOIN JUDAS PRIEST ARE A "COMPLETE LOAD OF BOLLOCKS"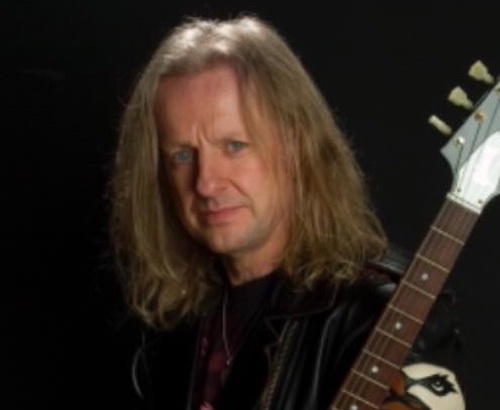 In a recent interview with Backstage Axxess, Judas Priest bassist Ian Hill was asked why guitarist K.K. Downing was not asked to re-join after Glenn Tipton had to step aside due to his battle with Parkinson's.
Ian replied, "When he retired, we took on Richie [Faulkner], you know, so he's playing all Ken's parts. So, it's not Ken's [parts] that are missing, it's going to be Glenn's parts that he would be playing. Really, Ken, what's he going to do? Come over to my side of the stage and play Glenn's parts? It wasn't his job, if you know what I mean, that had become vacant. It was Glenn's. Glenn and Ken are two excellent guitarists, [but] both are completely different in styles and sounds, and for Ken to be playing Glenn's parts anyway, it really wouldn't have sounded right anyway. We never thought about Ken for that reason."
The "Cobras & Fire" podcast asked what Downing thought of Hill's justification for why he wasn't contacted about coming back to to the band, Downing said (as per blabbermouth.net), "Complete load of bollocks. If I had rejoined the band, obviously, I'd step into my role — that's where people would expect me to be — and Richie is already playing Glenn's parts anyway, and we'd do that. It wasn't the case where I was gonna play Glenn's parts and Richie plays mine."
"I was thinking, 'Ian, was it too early in the day or too late in the evening when you came up with this idea?'" K.K. continued. "I don't know. But bless him — bless him, because we were like brothers; we went to infant school together and secondary school together, and we lived our career together. But I'm not totally happy about what's being said. Ian seems to be [saying] things like, 'None of the fans are missing K.K.,' and, 'Richie has brought a new energy to the band.' And I'm going, 'Ian, dude, on that last tour, I was the energy. I slowed down because people weren't keeping up with me.'"
Downing added, "That's a true story. 'Cause I started off that tour, I played a few shows, and then Scott [Travis, drums] made a comment, and he said, 'What do you mean, man? It's your show.' And I'm thinking, 'Did he think I'm trying to steal the limelight by doing what I've always done?' Then I started to back off, and then I was in an unhappy place from that point — I didn't want everybody to think I was trying to steal the limelight when I wasn't. 'Cause Rob's [Halford, vocals] reading his Autocue [teleprompter system] — he's slowed down — Glenn's going over there for a beer in between every song, and I'm thinking, 'Hmm… I don't know.' So I'm thinking, Ian, get a grip with yourself, mate. You've just replaced the energy with some energy. Fine — well, great. But that's not moving forward, Ian."
K.K. Downing's autobiography, "Heavy Duty: Days And Nights In Judas Priest", will be released on September 18th through Da Capo Press. Read more about this forthcoming release by clicking here.