JUDAS PRIEST'S ROB HALFORD AND RICHIE FAULKNER DISCUSS THE "EPITAPH" DVD AND NEW MUSIC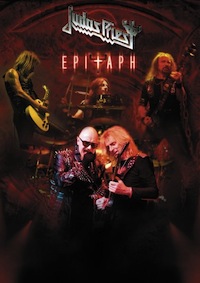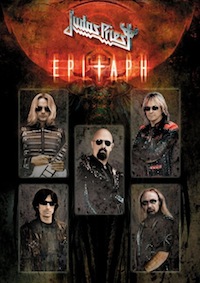 Greg Prato of Rolling Stone spoke with the Metal God Rob Halford and Judas Priest guitarist Richie Faulkner about the band's Epitaph DVD and new music. Portions of the interview appear below.
RS: When did the idea come up to document the Epitaph tour with a DVD?
Rob Halford: Pretty much when we were in rehearsals, before the big world tour kicked off, the rehearsals . . . it was different. It was different musically, because we were going through the decades of Priest metal. And along with the production, all these great things that were being shown to us that we wanted to include, and to some extent, carry on the experience we had with some of the Nostradamus moments. We thought, "The time is right again to put this all down on film." It just felt like a natural idea to follow up the British Steel DVD.
So as soon as we talked it through, we started to put things into motion and waited until the end, which when you think about it now, we waited until the very last show – it was kind of a ballsy thing to do, because there could have been a technical breakdown, and then, "What are we going to do now?" But thankfully everything ran like clockwork, and it was just great to have that experience captured. It's a defining moment. It's a very unusual thing for Priest to do, in that everything we tried to do has had an original attitude to it. And most certainly, the Epitaph tour carried that significance.
RS: How would you say this DVD differs from previous Priest DVDs?
Halford: Just in the musical side of it, as well as the great production all these wonderfully talented people committed to getting for us, to go through pretty much four decades of metal is exceptional for Priest. We've never done anything like that before. To go from Rock Rolla all the way through to Nostradamus, to make that kind of statement was, again, an exciting experience for us. You could feel it as you were playing. The musical jump from a song that was written in the Seventies to something that was written in 2008 . . . that's a jump. And you can hear the music developing through the decades. Turbo Lover is separate from Painkiller, as Painkiller is from Breaking the Law, or as Victim of Changes. For metal aficionados, it's a real treat. And that definitely was the most unusual aspect of this whole project.
RS: How was it playing such rarely performed tunes as Never Satisfied, Starbreaker, and Beyond the Realms of Death again?
Halford: I love Never Satisfied. There's something just very essential. It starts in an unusual way musically. How does it start . . . it's like [sings opening], that's like a fanfare. And I love the breakdown section. The timing of that is very unusual, if you really break that song down. And then it roars back out of that middle section. I love that breakdown section because of what Richie was doing. Guitar-wise, his phrasing, what he was doing in that part – I don't know how he did it, because it was pure Seventies. And then the other big challenge was Blood Red Skies – that's just a big opus. But Starbreaker . . . I'm the world's biggest Priest fan.
RS: And how is the new Priest studio album coming along?
Faulkner: It's coming along really well. We're not saying too much about it at the moment –it's kind of early to say. But it's shaping up really well. The great thing from a writing point of view is that Priest's brand of music is so broad, there's a lot to take from. One extreme from the other. You can put stuff on the table and nothing is discounted. You might get some bands that are like, "Oh, we can't do that, it sounds a bit like this or that." With Priest, you can put anything on the table and you've got the flexibility from the scope of the sound, creatively. And then you've got people like Halford and Glenn, they put their stamp on it. Songs like Green Manalishi and Diamonds and Rust – when a band like Priest, with that sort of musical voice gets on something, it becomes a whole different monster. And the same thing with the new stuff. So it's exciting. And from my point of view, to be a part of that is ridiculous. It's fantastic.
RS: Are you involved in the songwriting process, Richie?
Faulkner: Yes. I put some stuff on the table. It's always been a writing team. And to even be given the chance to put stuff forward is amazing. It could have been a bit awkward if it didn't fit in or whatever, but it fit in, and it's all working really well. And from a fan's point of view, I've been in bands before [where they said], "Oh, you can't play that, it sounds like Priest." Now you can. I can't wait to hear the finished thing.
RS: Any idea when the album will come out?
Halford: Ready when it's ready. No rush. We don't want to drop the ball – we've never dropped the ball, anyway. We're certainly not in a "luxury moment." When you think about it, any band that was in the Eighties that was having success, you were literally making a record a year. The demand was so strong . . . I mean, in those days, you were popping out platinum albums all the time. To get remotely close to gold in today's world is a massive achievement. It's a different world altogether. We've never slacked off – we've always enjoyed writing, we've always enjoyed being in the studio. There's never been like, "Oh, God, we've got to make another record." There's always been this genuine desire. The hunger has never left us. When you wake up, it's like, "Another heavy metal day. What are we going to do today?" It's great. As a 62-year-old man, I'm just really pleased that I'm still feeling that way about my metal. I'm a metal head – I'm sixty-fucking-two, it's incredible. That side of Priest is just solid as ever. We're eager to keep going down the metal coalmine and seeing if we can hack up some diamonds.
Read more at Rolling Stone.
source: rollingstone.com