JUDAS PRIEST TO RELEASE "EPITAPH" ON BLU-RAY AND DVD ON MAY 28th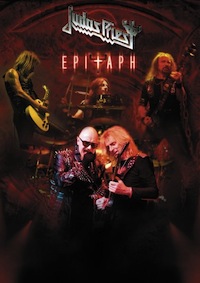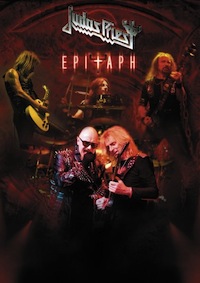 Judas Priest, the heavy metal legends whose influence on generations of musicians and metalheads is incalculable, celebrate their 40th year as recording artists this year with the release of the live concert Epitaph. A unique live career retrospective, Epitaph will be released on Blu-ray and separate DVD on May 28th through Legacy Recordings, a division of Sony Music Entertainment. This release precedes a new studio album by Judas Priest which the band are working on now.
Judas Priest's current lineup comprises lead singer Rob Halford, lead guitarists Glenn Tipton and Richie Faulkner, bassist Ian Hill, and drummer Scott Travis.
Heavy metal historians will regard Epitaph as the most far-reaching live concert recording in the band's career. The set revisits the climactic closing date of the 50-week Epitaph World Tour, captured live at London's HMV Hammersmith Apollo on May 26th, 2012. Adding to the drama is the fact that this was Judas Priest's final large-scale world tour ever. Epitaph's 23 tracks represent at least one song from every one of the band's 14 studio albums, from 1974's Rocka Rolla (Never Satisfied" to 2008's Nostradamus (Prophecy).
In the special case of British Steel, four songs are featured: Rapid Fire, Metal Gods, Breaking The Law, and perennial set closer, Living After Midnight. Others exempted from the one-song-quota are the LPs which appeared before and after British Steel. The first of these is 1979's Hell Bent For Leather (UK title: Killing Machine) which lends the title song as well as The Green Manalishi (With The Two-Pronged Crown). The other LP is 1982's Screaming For Vengeance, source of The Hellion, Electric Eye, and You've Got Another Thing Coming.
Epitaph tracklisting:
1. Battle Hymn (L)
2. Rapid Fire (F)
3. Metal Gods (F)
4. Heading Out To The Highway (G)
5. Judas Rising (M)
6. Starbreaker (C)
7. Victim Of Changes (B)
8. Never Satisfied (A)
9. Diamonds And Rust (C)
10. Prophecy (N)
11. Night Crawler (L)
12. Turbo Lover (J)
13. Beyond The Realms Of Death (D)
14. The Sentinel (I)
15. Blood Red Skies (K)
16. The Green Manalishi (With The Two-Pronged Crown) (E)
17. Breaking The Law (F)
18. Painkiller (L)
19. The Hellion (H)
20. Electric Eye (H)
21. Hell Bent For Leather (E)
22. You've Got Another Thing Coming' (H)
23. Living After Midnight (F)
Album index:
A – from Rocka Rolla (originally issued 1974, on Gull Records)
B – from Sad Wings Of Destiny (originally issued 1976, on Gull Records)
C – from Sin After Sin (originally issued 1977, on Columbia Records)
D – from Stained Class (originally issued 1978, on Columbia)
E – from Hell Bent For Leather (originally issued 1979, on Columbia; aka Killing Machine in UK)
F – from British Steel (originally issued 1980, on Columbia)
G – from Point Of Entry (originally issued 1981, on Columbia)
H – from Screaming For Vengeance (originally issued 1982, on Columbia)
I – from Defenders Of the Faith (originally issued 1984, on Columbia)
J – from Turbo (originally issued 1986, on Columbia)
K – from Ram It Down (originally issued 1988, on Columbia)
L – from Painkiller (originally issued 1990, on Columbia)
M – from Angel Of Retribution (originally issued 2005, on Epic Records)
N – from Nostradamus (originally issued 2008, on Epic)
For more information, please visit judaspriest.com.