JUDAS PRIEST SCHEDULE SCREENINGS OF "EPITAPH" IN NEW YORK AND LONDON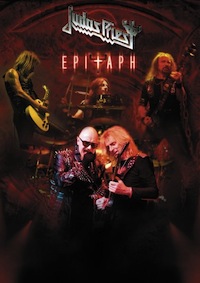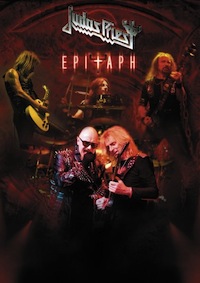 Judas Priest, the heavy metal legends whose influence on generations of musicians and metalheads is incalculable, celebrate their 40th year as recording artists with the global cinema release of the live concert Epitaph. A unique live career retrospective, Epitaph will be shown at two very special cinema events — one in New York at the Clearview Chelsea on May 14th and the other at London's Forum in Kentish Town on May 15th. It will then be released in cinemas on May 16th across the U.S., U.K., Canada, Germany, Austria, Netherlands, Sweden, Finland, Spain, Bulgaria, Estonia, Romania, Mexico, Colombia, Peru, Chile, Argentina, Brazil, Central America, with many more to follow. Fans will have a limited opportunity to re-live the excitement of the final show of the band's last-ever world tour, which was filmed at the Hammersmith Apollo London in May 2012.
Cinema locations and ticket purchasing information can be found at JudasPriest.com.
Says the band, "The Epitaph world tour came to an exciting conclusion at the renowned Hammersmith Odeon (now known as the Apollo) in London. Knowing our fans around the planet recognize that venue for many legendary metal moments, and of course with Judas Priest being a British metal band it was the perfect gig for us to film and record. Big thanks as always to you our metal family of fans — so start banging your heads one more time with us as we scream together 'The Priest is back!'"
A unique live career retrospective, Epitaph will be made available on Blu-ray and separate DVD on May 28th through Legacy Recordings, a division of Sony Music Entertainment. This release precedes a new studio album by Judas Priest which the band are working on now.
Epitaph track listing
1. Battle Hymn (L)
2. Rapid Fire (F)
3. Metal Gods (F)
4. Heading Out To The Highway (G)
5. Judas Rising (M)
6. Starbreaker (C)
7. Victim Of Changes (B)
8. Never Satisfied (A)
9. Diamonds And Rust (C)
10. Prophecy (N)
11. Night Crawler (L)
12. Turbo Lover (J)
13. Beyond The Realms Of Death (D)
14. The Sentinel (I)
15. Blood Red Skies (K)
16. The Green Manalishi (With The Two-Pronged Crown) (E)
17. Breaking The Law (F)
18. Painkiller (L)
19. The Hellion (H)
20. Electric Eye (H)
21. Hell Bent For Leather (E)
22. You've Got Another Thing Coming (H)
23. Living After Midnight (F)
Album index:
A – from "Rocka Rolla" (originally issued 1974, on Gull Records)
B – from "Sad Wings Of Destiny" (originally issued 1976, on Gull Records)
C – from "Sin After Sin" (originally issued 1977, on Columbia Records)
D – from "Stained Class" (originally issued 1978, on Columbia)
E – from "Hell Bent For Leather" (originally issued 1979, on Columbia; aka Killing Machine in UK)
F – from "British Steel" (originally issued 1980, on Columbia)
G – from "Point Of Entry" (originally issued 1981, on Columbia)
H – from "Screaming For Vengeance" (originally issued 1982, on Columbia)
I – from "Defenders Of the Faith" (originally issued 1984, on Columbia)
J – from "Turbo" (originally issued 1986, on Columbia)
K – from "Ram It Down" (originally issued 1988, on Columbia)
L – from "Painkiller" (originally issued 1990, on Columbia)
M – from "Angel Of Retribution" (originally issued 2005, on Epic Records)
N – from "Nostradamus" (originally issued 2008, on Epic)