JUDAS PRIEST CELEBRATE FIVE DECADES IN MUSIC AND 50 MILLION ALBUMS SOLD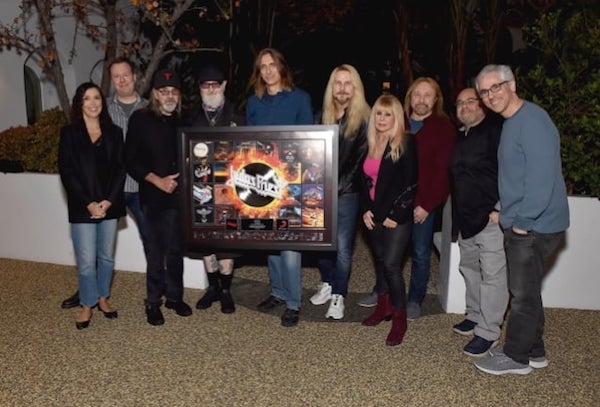 Judas Priest have been presented with a special plaque commemorating an incredible 50 years in music and over 50 million album sales worldwide. The presentation was made on the eve of the band's induction in to the Rock And Roll Hall Of Fame in Los Angeles last month.
There are few heavy metal bands that have managed to scale the heights that Judas Priest have during their 50-year career. Their presence and influence remains at an all-time high as evidenced by 2018's Firepower being the highest-charting album of their career, a 2010 Grammy Award win for "Best Metal Performance", plus being a 2006 VH1 Rock Honors recipient. Judas Priest originally formed in 1969 in Birmingham, England (an area that many feel birthed heavy metal). Rob Halford, Glenn Tipton, K.K. Downing and Ian Hill would be the nucleus of musicians (along with several different drummers over the years) that would go on to change the face of heavy metal. The current lineup, which changed in 2011, consists of Halford, Tipton, Hill, Richie Faulkner and Scott Travis.
Following early albums such as Rocka Rolla, Sin After Sin and Sad Wings Of Destiny, Judas Priest redefined heavy music forever with the 1980 release of iconic album British Steel. Subsequent albums such as Screaming For Vengeance and Painkiller established the band as Metal Gods, identified by charismatic Halford's characteristic soaring high-pitched vocals.
Priest received the Musical Excellence Award at this year's Rock And Roll Hall Of Fame, which honored Eminem, Dolly Parton, Duran Duran, Lionel Richie, Pat Benatar, EURYTHMICS and Carly Simon in the Performers category.
The members who got inducted include current members Halford, Hill, Tipton and Travis, along with former members Downing, Les Binks (drums) and late drummer Dave Holland.
Halford, Hill, Tipton and Travis were joined by Binks, Downing and Faulkner for a three-song medley consisting of You've Got Another Thing Comin', Breaking The Law and Living After Midnight. [Dana's note: As previously reported, You've Got Another Thing Comin' was cut from the show, which was broadcasted on HBO and HBO Max on November 19th.]