GEORGE LYNCH & JEFF PILSON RELEASE NEW HOLIDAY SINGLE CALLED "IT'S A WONDERFUL LIFE"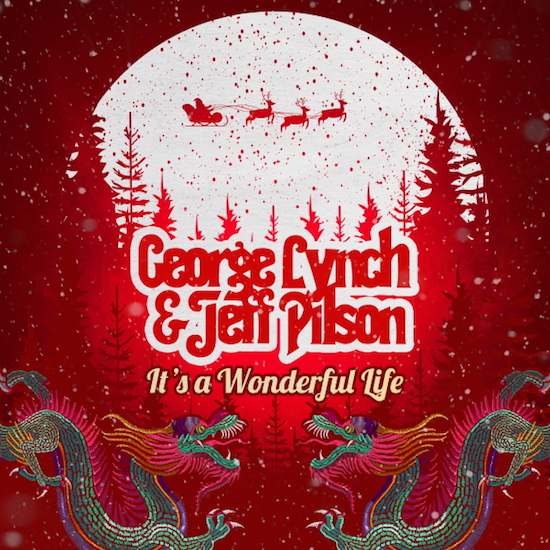 Their musical partnership extends all the way back to 1984 and the release of the now classic sophomore album from Dokken, Tooth And Nail. No wonder then that when guitarist George Lynch and bassist Jeff Pilson get together, not only do the creative sparks fly but the memories come rushing back as well. Following up on the duo's most recent trip down memory lane, a full-length a collection of fresh and invigorating versions of hits from yesteryear, 2020's Heavy Hitters, Lynch and Pilson are releasing a brand new single today, an original song co-written by both artists that reflects back on all the twists and turns that life can bring. 
It's A Wonderful Life is simply a gorgeous power ballad that brings out the best in both Lynch and Pilson. Musically, the song has echoes of Tooth And Nail's smash hit single Alone Again, with a beautiful, chiming acoustic guitar intro that gives way to epic, fist-pumping riffs. But lyrically the song couldn't be more different – instead of regret and sorrow, It's A Wonderful Life boasts a surprisingly optimistic and hopeful outlook on a life's journey despite the bouts of doubt and indecision. Since the song borrows its title and refrain from the popular 1946 Frank Capra Christmas classic, it seems only fitting that the single is being released just as this year's holiday season is getting into full swing. 
Lynch shares his excitement about the new song, saying "Jeff and I have been woodshedding and writing songs together for 40 years and we've never lost that enthusiasm and passion that we shared since day one." Pilson likewise proclaims, "We just HAD to write our own Christmas track. No Jingle Bells for us."
Stream/download the single here.
Watch for Lynch & Pilson's highly anticipated follow-up album, Heavy Hitters 2, coming later next year.
Order Heavy Hitters 1 on CD/vinyl, here, or stream/download, here.