JOE SATRIANI TO LAUNCH HIS U.S. TOUR ON AUGUST 29th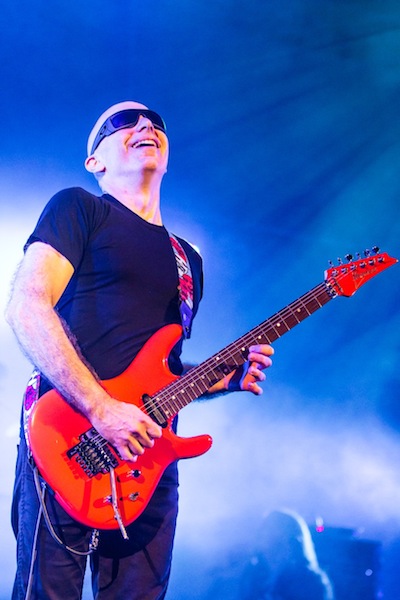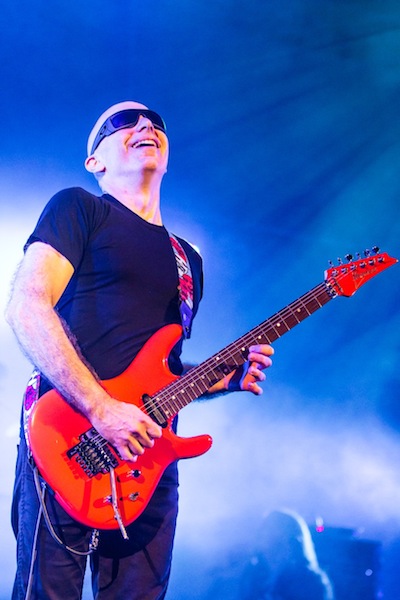 As Joe Satriani finishes up his hugely successful two-month European tour, the critical praise is overwhelming. Hitting seventeen countries in all, the tour has played to sold-out venues throughout the continent and the Euro-press response has been spectacular:
"He left the singing to his guitars. And what voices they produced – at times pumping out primeval, guttural tirades; at others, reaching for the angels." – Birmingham Mail
"Robert Plant started his rock music life at the Wolverhampton Civic and then took the spirit of Band of Joy and Led Zeppelin all over the globe, spreading the vibe, incredibly, Joe Satriani captured that very same spirit and bought it home, big time." – Rockshot
Satriani has been an unstoppable force on the music scene for over 27 years. Now, the San Francisco guitarist sets his sights on North America for an extensive U.S. tour, and first ever cross-Canada tour, supporting his latest album Unstoppable Momentum. The tour is set to launch on August 29th in San Diego, CA before crisscrossing its way across the US, in addition to a trans-Canadian tour where Satriani will be hitting many Canadian cities for the very first time. The North American tour will end with a show on October 26th in Oakland, CA. Joining Satriani on the road are veteran band mate Mike Keneally (Frank Zappa, Steve Vai) on keyboards, along with an entirely new rhythm-section, featuring bassist Bryan Beller (Dethklok, Dweezil Zappa) and drummer Marco Minnemann (Adrian Belew, Steve Wilson).
It was also recently announced that Satriani will be honored to perform the National Anthem at this year's Red Bull U.S. Grand Prix at Mazda Raceway Laguna Seca. The multi-platinum guitarist is set to serenade the grid this year as he performs the Star-Spangled Banner at the Red Bull U.S. Grand Prix on Sunday, July 21st. Satriani will perform from the track just prior to the three-day event's premier contest, the MotoGP™ World Championship race.
Satriani is celebrating Unstoppable Momentum, his 14th studio album, which was released on May 7th, 2013. The album debuted at # 42 giving Satriani his highest chart position in over 20 years and first single, A Door Into Summer, landed in the Top Ten on the Classic Rock radio chart. The World Tour launched on May 18 in Istanbul, Turkey and continues on through July 13th in Krasnodar, Russia. Critics are raving about the guitar great's new album with Total Guitar saying ". . . (Satriani's) momentum truly seems unstoppable. The best we can do is to hang on tight," while Classic Rock declares, "Satch nails it on 14th solo sweep!"
Joe Satriani's Unstoppable Momentum Tour Itinerary (* featuring Steve Morse Band as support thru Portland, ME):
August:
29    Balboa Theatre    San Diego, CA *
30    Pearl Concert Theater at Palms Casino Resort   Las Vegas, NV *
31     Orpheum Theatre   Los Angeles, CA *
September
1    Talking Stick Resort Ballroom    Scottsdale, AZ *
2    Kiva Auditorium    Albuquerque, NM *
4    Historic Paramount Theatre   Denver, CO *
5    Wagner Noel Performing Arts Center   Midland, TX *
6    Verizon Theatre at Grand Prairie   Grand Prairie, TX *
7    House of Blues   Houston, TX *
8    Austin City Limits – Moody Theatre    Austin, TX *
10   House of Blues   New Orleans, LA *
11   Ruth Eckerd Hall   Clearwater, FL *
12   Parker Playhouse    Ft. Lauderdale, FL *
13   Hard Rock Live   Orlando, FL *
14   Saenger Theatre   Pensacola, FL *
15   Symphony Hall    Atlanta, GA *
17   War Memorial Auditorium   Nashville, TN *
18   Chicago Theatre   Chicago, IL *
19   Lakewood Civic Auditorium   Lakewood, OH *
20   Taft Theatre   Cincinnati, OH *
21   Wings Stadium   Kalamazoo, MI *
22   Macomb Music Theatre   Mt. Clemens, MI
24   Carolina Theatre   Durham, NC *
25   Warner Theatre   Washington, DC *
26   Beacon Theatre    New York, NY *
27   Orpheum Theatre   Boston, MA*
28   Tower Theatre Upper Darby, PA *
29   Carnegie Music Hall of Homestead   Munhall, PA *
October
1   Center for the Arts   Buffalo, NY *
2   Palace Theatre   Albany, NY *
3   State Theatre   Portland, ME *
4   Casino New Brunswick   New Brunswick, NB
5   Rebecca Cohn Auditorium   Halifax, NS
7   Le Capitole De Quebec   Quebec City, QC
8   National Arts Centre Southam Hall   Ottawa, ON
9   St. Denis Theatre   Montreal, QC
10   Centre in the Square   Kitchener, ON
11   Massey Hall    Toronto, ON
14   Burton Cummings Theatre   Winnipeg, MB
15   TCU Place   Saskatoon, SK
16   Northern Alberta Jubilee Auditorium   Edmonton, AB
17   Southern Alberta Jubilee Auditorium   Calgary, AB
19   Vogue Theatre    Vancouver, BC
21   The Fox Theater   Spokane, WA
22   Paramount Theatre    Seattle, WA
23   Historic Elsinore Theatre   Salem, OR
25   Vina Robles Amphitheatre    Paso Robles, CA
26   Fox Theater    Oakland, CA
For more information, please visit satriani.com.