JOE SATRIANI – JOINS TOGETHER WITH G3 TOUR MATES – AND FRIENDS–CARLOS SANTANA, NEAL SCHON & MORE TO RAISE MONEY FOR NORTH BAY FIRE RELIEF IN SONOMA COUNTY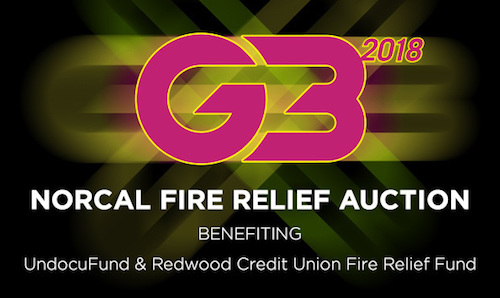 World-renowned guitarist, and Bay-Area resident, Joe Satriani announces a fundraising auction, set to launch this Sunday, January 14th, at the Fox Theater in Oakland, CA to benefit the North Bay Fire Relief in Sonoma County. The online auction will be live for one week, with bidding ending on January 21st, bid here.
The auction will feature autographed collectible guitars from Joe as well as his G3 Tour-mates (John Petrucci & Phil Collen), in addition to guitars signed and donated by fellow Bay Area Residents: Carlos Santana and Neal Schon. Other items up for auction include a Huey Lewis signed harmonica and a Bill Gibson signed drumhead, along with signed posters and memorabilia from past G3 tours. Net proceeds will go to North Bay Fire Relief, including UndocuFund, directly assisting the affected undocumented residents of Sonoma County. The auction is being curated and administered by Bananas at Large.
Satriani has lived in the Bay Area for over 30 years and considers it home. His longtime manager, Mick Brigden, was directly affected by the fire as his entire neighborhood was destroyed, although thankfully, his house was spared. Raising funds to support those affected in their own backyard is important to the multi-Grammy nominated guitarist. Satriani says, "This special auction for North Bay Fire Relief in Sonoma County is close to my heart. So many of my friends and coworkers are still in need after the devastating wildfires. Please join me and my musical buddies in raising some funds to provide some love and care. Thank you!"
The guitarist's 16th solo album, What Happens Next, was released today (January 12th) on Sony/Legacy Recordings. Listen to, Thunder High On The Mountain, from the album, here. Longtime touring entity, G3, opened last night in Seattle featuring Dream Theater's John Petrucci and Def Leppard lead guitarist, Phil Collen, joining him. The G3 tour will conclude on February 25th in Milwaukee, WI.
Joe's touring band: Mike Keneally (guitar and keyboards), Bryan Beller (bass), Joe Travers (drums).
G3 Tour featuring Joe Satriani, John Petrucci & Phil Collen itinerary:
2018 G3 Tour featuring Joe Satriani, John Petrucci & Phil Collen itinerary:
January:
11 The Moore Theatre Seattle, WA
12 Historic Elsinore Theatre Salem, OR
13 Grand Sierra Theatre Reno, NV
14 Fox Theater Oakland, CA
16 Delta Hall at Eccles Theater Salt Lake City, UT
17 Brooklyn Bowl Las Vegas, NV
18 Mesa Arts Center Mesa, AZ
19 Orpheum Theatre Los Angeles, CA
20 Balboa Theatre San Diego, CA
21 Fox Tucson Theatre Tucson, AZ
24 Historic Paramount Theatre Denver, CO
25 Uptown Theater Kansas City MO
26 The Pavillion at The Toyota Music Factory Irving, TX
27 Austin City Limits – Moody Theater Austin, TX
28 Hobby Center for the Performing Arts Houston, TX
30 Hard Rock Live Orlando, FL
31 Florida Theatre Jacksonville, FL
February:
1 Pompano Beach Amphitheatre Pompano Beach, FL
2 Barbara B Mann Performing Arts Hall Fort Myers, FL
3 Mahaffey Theater St. Petersberg, FL
6 Raleigh Memorial Auditorium Raleigh, NC
8 Toyota Presents Oakdale Wallingford, CT
9 Landmark Theatre Syracuse, NY
10 Palace Theatre Albany, NY
11 The Palace Theatre Greensburg, PA
14 Warner Theatre Washington, DC
15 Orpheum Theatre Boston, MA
16 Beacon Theatre New York, NY
17 Merriam Theater Philadelphia, PA
18 New Jersey Performing Arts Center Newark, NJ
20 Auditorium Theatre Rochester, NY
21 Massey Hall Toronto, ONT
22 Hard Rock Live Northfield, OH
23 Chicago Theatre Chicago, IL
24 State Theatre Minneapolis, MN
25 Riverside Theater Milwaukee, WI
Follow Joe online: