JOE PERRY' PREMIERES LEAD SINGLE "AYE, AYE, AYE," AND ALBUM, "SWEETZERLAND MANIFESTO," AVAILABLE FOR PRE-ORDER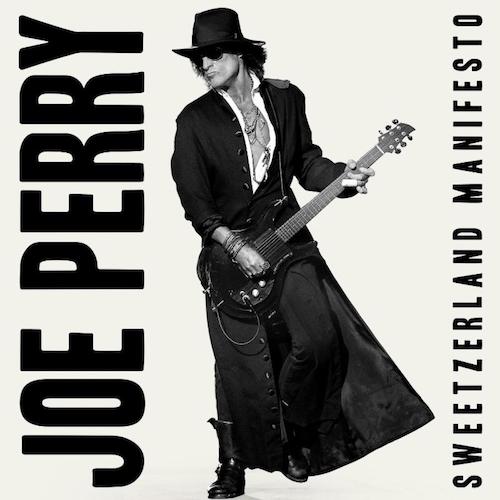 Joe Perry–legendary guitarist, co-founding member, principal songwriter and co-producer of Aerosmith-has premiered Aye, Aye, Aye, the lead single from his forthcoming solo album, Sweetzerland Manifesto due out January 19th. The gritty rocker, which features Robin Zander of Cheap Trick on vocals, can be streamed below, or via Spotify.
Set for release on his own Roman Records imprint (distributed worldwide by AMPED Distribution), Sweetzerland Manifesto–which is available for pre-order starting today via iTunes and Amazon–marks Perry's sixth solo album and is comprised of 10 new tracks. They were all written or co-written by the guitarist (many with the album's guest vocalists), except for a cover of Eve Of Destruction with Joe on lead vocals and Johnny Depp on drums. The album features guest appearances from a long list of Joe's friends, colleagues and rock and roll icons. Highlights include Aye, Aye, Aye, which he co-wrote with the track's vocalist Robin Zander,and three collaborations with David Johansen, who sings I Wanna Roll, Haberdasher Blues, and I'm Going Crazy, plus as many co-writes with Terry Reid whose lead vocals light up I'll Do Happiness, (with Zak Starkey on drums), Sick & Tired and Won't Let Me Go.
Sweetzerland Manifesto track listing is as follows:
1. Rumble In The Jungle (instrumental)
2. I'll Do Happiness (featuring Terry Reid)
3. Aye, Aye, Aye (featuring Robin Zander)
4. I Wanna Roll (featuring David Johansen)
5. Sick & Tired (featuring Terry Reid)
6. Haberdasher Blues (featuring David Johansen)
7. Spanish Sushi (instrumental)
8. Eve Of Destruction (featuring Joe Perry)
9. I'm Going Crazy (featuring David Johansen)
10. Won't Let Me Go (featuring Terry Reid)