JOE PERRY RELEASES NEW VIDEO FOR "AYE, AYE, AYE" FROM "SWEETZERLAND MANIFESTO" SOLO ALBUM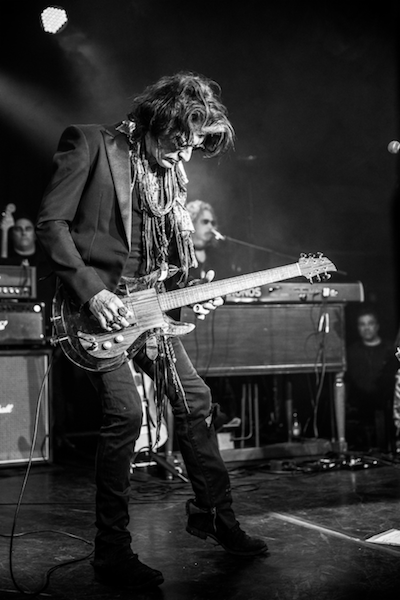 Lgendary guitarist, co-founding member, principal songwriter and co-producer of Aerosmith–has just released the new video for Aye, Aye, Aye, the first single from his Sweezterland Manifesto album, watch it below.
Filmed earlier this year at The Roxy Theatre in Los Angeles, CA, the video (and track) features guest vocalist Robin Zander along with an all-star band including guitarist Dean DeLeo and bassist Robert DeLeo (Stone Temple Pilots), Buck Johnson (keyboards/vocals/Aerosmith) and David Goodstein (drums) The night also featured guest appearances by Slash, Johnny Depp, Gary Cherone (Extreme/Van Halen) who handled vocals for the bulk of the show, with other guest vocalists Terry Reid, David Johansen, and Chris Robinson.
"I had just finished writing my autobiography 'Rocks' with David Ritz so we'd been based in LA," JOE says about how Sweezterland Manifesto came together. "My friend and future bandmate Johnny (Depp) offered the use of his studio to record my new solo record. Later that week I went to his studio to talk about the record and the possibly about it being an instrumental CD. Ironically, that night we recorded Eve of Destruction with Johnny on drums. Even though it was big hit in the sixties I felt with everything going on in the world today that this song was more than relevant than ever especially since the Atomic Clock had just been moved even closer to midnight."
"Aye, Aye, Aye was the only song written from the ground up for this CD," JOE continues. "All the other tracks I had written before the vocalists heard them. Robin had a chorus that he sang to me over the phone and he said 'this sounds like a riff that could be right up your alley.' When Robin walked into the studio singing Aye, Aye, Aye, I said 'what is a good key for you?' He said, 'The Aye, Aye, Aye key,' lol…By that night we had a demo of the song finished. Later I found out it was inspired by my love for my custom Gibson Billie guitar which has my wife's picture on it (painted by John Douglas). The only requirement or pressure behind this album was all the songs had to be fun to play live. And after having the chance to perform Aye, Aye, Aye with Robin live I have to say it hits the mark. Little did I know it would be one of my favorite songs on the CD."
Released earlier this year on his own Roman Records imprint (distributed worldwide by AMPED Distribution), Sweezterland Manifesto marks Joe's sixth solo album and is comprised of 10 new tracks. They were all written or co-written by JOE (many with the album's guest vocalists), except for a cover of Eve Of Destruction with Joe on lead vocals and Johnny Depp on drums. The album features guest appearances from a long list of JOE's friends, colleagues and rock and roll icons. Highlights include Aye, Aye, Aye, which Perry co-wrote with the track's vocalist Robin Zander,and three collaborations with David Johansen, who sings I Wanna Roll, Haberdasher Blues, and I'm Going Crazy, plus as many co-writes with Terry Reid whose lead vocals light up I'll Do Happiness, (with Zak Starkey on drums), Sick & Tired and Won't Let Me Go.
Photo credit: Steve Thrasher