FORMER KISS GUITARIST VINNIE VINCENT ANNOUNCES FIRST LIVE SHOW IN OVER THREE DECADES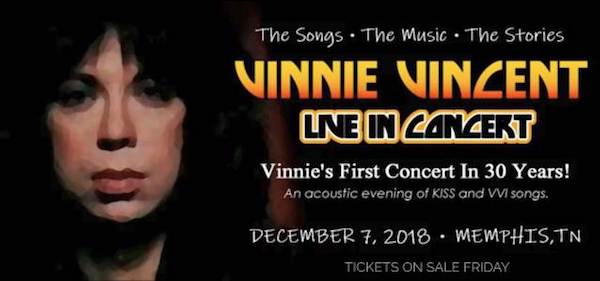 Former KISS guitarist Vinnie Vincent has revealed that he will playing his first live show, in over 30 years, in Memphis, Tennessee.
The show is scheduled for December 7th and will be an acoustic set including both KISS, and Vinny Vincent Invasion, songs. Keep an eye on vinnievincentlive.com for updates.
Vincent's most recent appearance was at the 2018 KISS Atlanta Expo in January. It was his first public interview in more than 20 years. The guitarist told the crowd he hopes to complete his autobiography "within a year."
Vinnie joined KISS in 1982, replacing Ace Frehley. As the "Ankh Warrior," he toured with the group in support of Creatures Of The Night, on which he played lead guitar on six songs prior to becoming an official member of the band. From there, KISS wrote and released "Lick It Up — their first album without makeup — in 1983, a recording on which Vincent co-wrote eight of 10 songs, including the title track, which remains a staple of the group's live performances to this day.
Despite the album's success, Vincent was fired by KISS after the Lick It Up touring cycle came to an end, allegedly due to a dispute over both the terms of his employment contract with the band and royalties. From there, Vincent founded Vinnie Vincent Invasion, which recorded two albums.