JAMEY JASTA OF HATEBREED AND ARMORED SAINT'S JOHN BUSH & JOEY VERA DROP BY THIS WEEK'S "THAT METAL SHOW"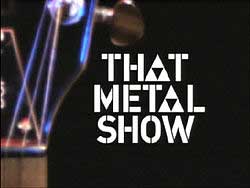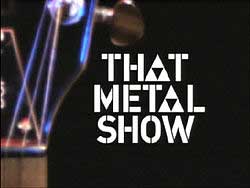 With Season 14 of That Metal Show already making history (the Season 14 premiere was the second most watched Season Premiere in the history of the series) VH1 Classic's centerpiece in original programming returns this week with an all new episode that welcomes Jamey Jasta of Hatebreed alongside John Bush and Joey Vera of Armored Saint. Jamey Jasta talks about the upcoming Hatebreed tour, the podcast he hosts, recounts how a recent tour they did with Black Label Society was one of the best he has ever done, and even gives a compilation CD to each member of the audience. John Bush and Joey Vera talk about their forthcoming seventh album Win Hands Down, their upcoming tour with Saxon and recall memories from their time in Anthrax.
The episode also features shred guitar maestro Michael Angelo Batio making his debut on That Metal Show as the guest musician. Michael amazes the crowd with his double neck, v-shaped guitar and demonstrates why he is one of the fastest guitar players on the planet. He also fills the hosts in on his upcoming career retrospective Shred Force 1: The Essential Michael Angelo Batio, which is slated for release next month. Jason Becker also checks in to the show via the Metal Modem. Through his interpreter he discusses working with David Lee Roth and how he developed a way to speak using his only his eyes through a computer. He also talks about his career and his ongoing love for guitar and music.
Jamey, John, and Joey candidly reveal their love of coffee and beer in the Put It On The Table segment. Eddie has a difficult time with Stump The Trunk this week with one lucky fan taking home a signature Michael Angelo Batio guitar from Dean guitars. Take It Or Leave It has the hosts discussing the recent surge of VIP experiences from artists at concerts, and the TMS Top 5 tackles the Top 5 Replacement Members in Bands who weren't singers. Notable musicians such as Kirk Hammett, Neil Peart, Adrian Smith, Jason Newsted, Zakk Wylde, and Gary Moore all become part of the discussion until the final 5 make it to the top of the board. The Throwdown pits the first two Dio era Black Sabbath albums against each other when Heaven And Hell goes up against Mob Rules.
Fans can watch all previous episodes, exclusive bonus clips and the new That After Show segment at ThatMetalShow.VH1.com and on the new VH1 app.
Audience tickets for upcoming tapings are now available via Gotham Casting at gothamcasting.com/gothamrsvp/.