JAKE E.LEE'S RED DRAGON CARTEL TO RELEASE THEIR SELF-TITLED DEBUT ON FRONTIERS RECORDS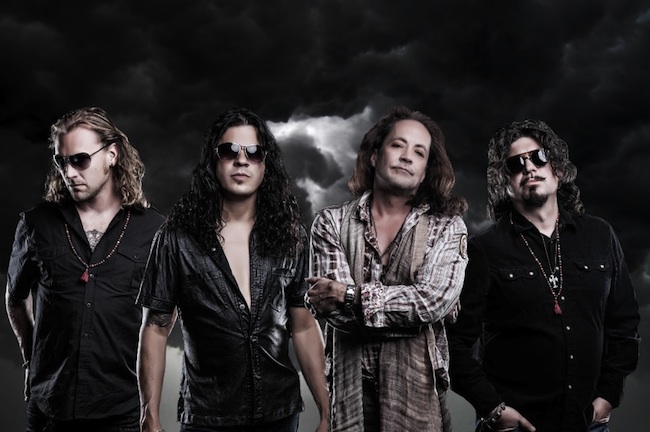 The newest band ready to take aim at the creative void in the hard rock world, Red Dragon Cartel, are set to release their debut album through Frontiers Records. The self-titled debut by the band made up of guitar legend Jake E. Lee, bassist Ronnie Mancuso, singer D.J. Smith and drummer Jonas Fairley is set for release on January 24th in Europe and January 28th in North America.
Jake E. Lee is best known for his work in Badlands and as guitarist for Ozzy Osbourne on Bark at the Moon and The Ultimate Sin albums. Red Dragon Cartel also features various guest appearances from some of music's most notable faces including legendary Cheap Trick vocalist Robin Zander, original Iron Maiden vocalist Paul Di'Anno, Kill Devil Hill/Pantera bassist Rex Brown, Slash's Conspirators Todd Kearns and Brent Fitz and In This Moment front woman Maria Brink. The album was produced by Ronnie Mancuso and Jake E. Lee and was executive produced, mixed and mastered by Kevin Churko (In This Moment, Ozzy Osbourne, Five Finger Death Punch).
From the opening riff of Deceived to final sustained piano chord of Exquisite Tenderness, it is clear Red Dragon Cartel has created an album that stands amongst some of the greatest hard rock albums of all time. Infectious songs such as Shout It Out, Wasted and Slave showcase the band's ability to write memorable hooks and vocal melodies. Robin Zander of Cheap Trick lends his voice to the track Feeder and Maria Brink of In This Moment lends her unique vocals to the track Big Mouth. Paul Di'Anno and Sass Jordan also lend their talents to the band's debut. Jake E. Lee's trademark playing style instantly shines through and picks up right where he left off. The album is available for pre-order at Amazon or digitally on iTunes that comes with an instant download of Deceived.
The track listing for Red Dragon Cartel is:
1. Deceived
2. Shout It Out
3. Feeder with Robin Zander
4. Fall From The Sky (Seagull)
5. Wasted with Paul Di'Anno
6. Slave
7. Big Mouth with Maria Brink
8. War Machine
9. Redeem Me with Sass Jordan
10. Exquisite Tenderness
The band will be bringing these new powerhouse songs on the road playing a handful of dates in the US before embarking on a full tour in 2014. Tickets are currently on-sale and all information can be found on the band's website.
December 12th – Los Angeles, CA – Whisky A Go Go
December 14th – Tempe, AZ – Marquee Theater (Support of Queensryche)
December 15th – San Diego, CA – Brick By Brick
December 20th – Las Vegas, NV – Count's Vamp'd
For more information, please visit the following sites:
reddragoncartel.com
facebook.com/reddragoncartel
twitter.com/reddragoncartel
Watch the lyric video for the song, Feeder, featuring Robin Zander of Cheap Trick, below.