JAKE E LEE'S RED DRAGON CARTEL RELEASE VIDEO FOR "DECEIVED" FROM THE BAND'S UPCOMING SELF-TITLED CD OUT IN JANUARY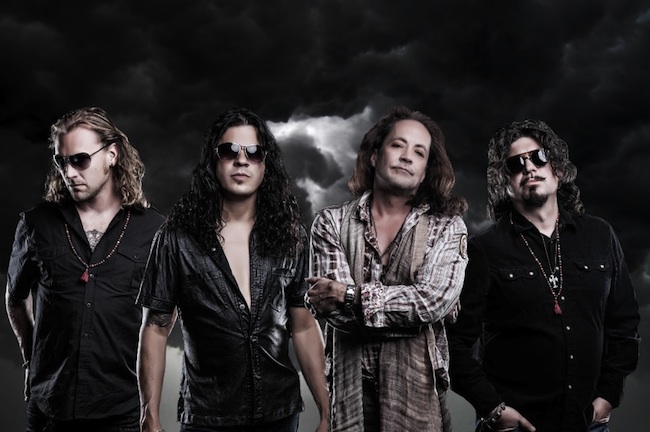 Red Dragon Cartel have been making waves since the band announced the release of their upcoming debut last year. Now, the band made up of guitar legend Jake E. Lee, bassist Ronnie Mancuso, singer D.J. Smith and drummer Jonas Fairley are unveiling their debut video for the song Deceived. The song comes from their soon-to-be-released Frontiers Records album Red Dragon Cartel out on January 24th in Europe and January 28th in North America.
The video for the song can be seen below.
Fans that pre-order the album digitally on iTunes receive the song as an instant download. The album is also available for pre-order on Amazon.
Jake E. Lee is best known for his work in Badlands and as guitarist for Ozzy Osbourne on Bark at the Moon and The Ultimate Sin albums. Red Dragon Cartel also features various guest appearances from some of music's most notable faces including legendary Cheap Trick vocalist Robin Zander, original Iron Maiden vocalist Paul Di'Anno, Kill Devil Hill/Pantera bassist Rex Brown, Sass Jordan, Slash's Conspirators Todd Kearns and Brent Fitz and In This Moment front woman Maria Brink. The album was produced by Ronnie Mancuso and Jake E. Lee and was executive produced, mixed and mastered by Kevin Churko (In This Moment, Ozzy Osbourne, Five Finger Death Punch).
Red Dragon Cartel will be hitting the road in the road in March to showcase Jake E Lee's return to the world. The begins on March 5th in Tempe, AZ and runs all the way through April 6th, where it wraps up in Seneca, NY. The tour will make stops in Oklahoma City, Houston, Raleigh and Philadelphia to name a few. The band will also be heading over to Europe where they are confirmed to perform at this year's Download Festival in Donnington, England and the famed Sweden Rock Festival. More dates are being added around the world as the band looks to bring the music of Red Dragon Cartel to every corner of the globe.
From the opening riff of "Deceived" to final sustained piano chord of "Exquisite Tenderness," it is clear Red Dragon Cartel has created an album that stands amongst some of the greatest hard rock albums of all time. Infectious songs such as "Shout It Out," "Wasted" and "Slave" showcase the band's ability to write memorable hooks and vocal melodies. Robin Zander of Cheap Trick lends his voice to the track "Feeder" and a lyric video for the song can be seen at http://tinyurl.com/FeederLyricVideo. Maria Brink of In This Moment lends her unique vocals to the track "Big Mouth." Paul Di'Anno and Sass Jordan also lend their talents to the band's debut. Jake E. Lee's trademark playing style instantly shines through and picks up right where he left off.
Confirmed Tour Dates:
March:
5 Las Vegas, NV The Marquee
13 Owaso, OK Lava Cable
14 Oklahoma City, OK The Chameleon Room
15 Houston, TX Concert Pub North
20 Hazard, KY Summit City
21 Janesville, WI The Back Bar
22 Fridley, MN Leighton's Pickle Park
23 Richmond, IN The Firehouse
25 McKees Rocks, PA Dead Hourse
28 Largo, FL Largo Cultural Center
Mar. 29 – Apr. 1 Miami, FL Monsters Of Rock Cruise
April:
2 Teaneck, NJ Mexicali Live
3 Philadelphia, PA The Legendary Dobbs
4 Amityville, NY Revolutions
6 West Seneca, NY Rock & Roll Heaven
May:
30 Vienna, AUS Szene
31 Munich, GER Backstage
June:
5 Norje Solvesborg, SWE Sweden Rock Festival
15 Donnington, ENG Download Festival
19 Seattle, WA El Corazon
21 Idaho Falls, ID Rock The Falls
Red Dragon Cartel links:
Official Website
Official Facebook
Official Twitter