JAKE E. LEE'S RED DRAGON CARTEL APOLOGIZES FOR SINGER'S LIVE DEBUT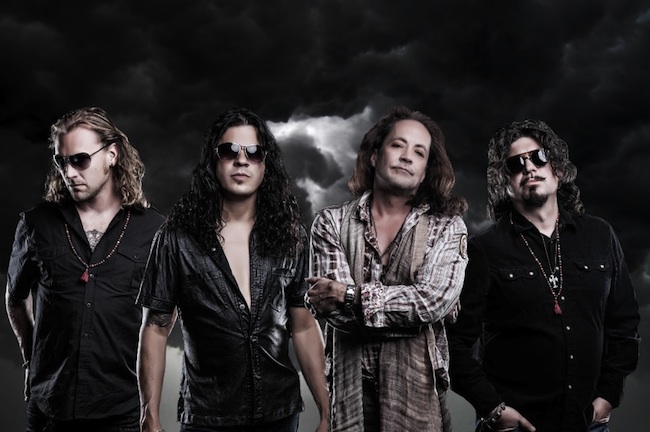 On December 12th Jake E. Lee's new band Red Dragon Cartel made their live debut at Hollywood's infamous Whiskey A Go Go. However after a series of critical reviews, mostly focusing on the poor performance of singer Darren James Smith, the band's website have issued a statement defending the vocalist.
"You fly thousands of miles, have 40 possible songs to create a set with, pick and refine 14 of those, rehearse till 4 in the morning for only four days with jet jag and strep throat. Then have a reasonably good sound check only to return to the stage to find one of the monitors is out and the teleprompter is set up wrong (yes I said it, TELEPROMPTER. It seems to work fine for Obama and Steven Tyler, Elton John), plus it's said it will be gone within a couple of weeks, mix in some American prescription cough syrup (thanks Nassad) and one to many pre-jitter shots. Result, a sub-standard performance from a great singer. I have stood in a room while they played together and Darren sings his ass off! Yes you're right, there will never be another Ray Gillen, R.I.P., but the Red Dragon Cartel is about to show the world that they can be a great band and that Darren James Smith is a great singer! Reserve your judgment until you watch the videos from tomorrow night's San Diego gig and Friday's show at Vamp'd in Las Vegas. In the meantime go over to iTunes and check out "Deceived" from the Red Dragon Cartel album. Jake E. Lee is back, playing better than ever with a great Band, album and live show. Wait till they come through your town sometime in the next year and decide for yourself. You wont be disappointed."
It appears Darren James Smith himself realizes he had an off night by stating, "No excuses! I fucked up. I can't believe the band is sticking with me. With the most sincere apologies to the band and all the Jake fans, you deserved better and you're going to get it."
But one poor outing hasn't slowed down Red Dragon Cartel. The band states that, "based on a huge buzz created by the band's very first show, our agency's phone rings all the time and we will have tons of gigs in the USA before and after the Monsters Of Rock cruise. Our European tour will start in Italy on May 3rd and end at a major festival in the UK on June 15. After that some more USA and then Japan and Asia in middle of July, then USA again and then Europe again. RDC will be busy!"
Red Dragon Cartel's self-titled debut is set for release on January 24th in Europe and January 28th in North America through Frontiers Records.
The entire album is available for pre-order and preview at Amazon.com. More details on Jake E. Lee and Red Dragon Cartel can be found at reddragoncartel.com and facebook.com/reddragoncartel.
Watch Red Dragon Cartel performing of "Bark At The Moon" at the Whisky A Go Go below.
additional source: sleazeroxx.com