GUITARIST JAKE E. LEE'S RED DRAGON CARTEL ANNOUNCE U.S. TOUR DATES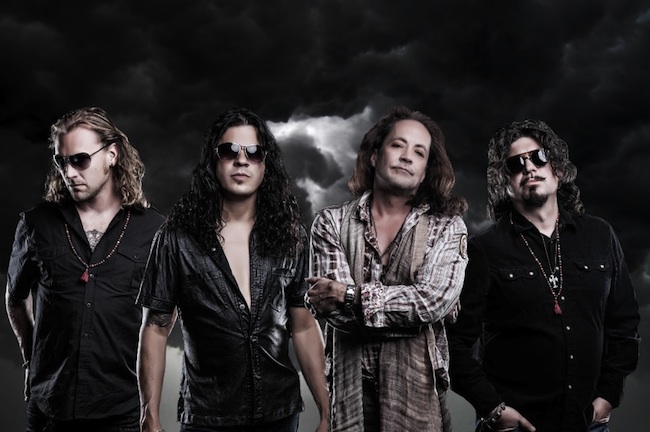 Jake E. Lee's Red Dragon Cartel has announced the initial dates of their 2014 U.S. tour – The band made their live debut on Thursday, December 12th to a capacity crowd at The Whisky A Go Go in Hollywood. Although the performance was considered by some to be a "shaky start," by all accounts it was clear that Red Dragon Cartel seemed to have corrected the startup issues turning in a solid performance last night San Diego at Brick By Brick. (video below)
U.S. tour dates are as follows:
12/20/13 – Las Vegas, NV – Count's Vamp'd
3/14/14 – Oklahoma City, OK – The Chameleon Room
3/15/14 – Houston, TX – Concert Pub North
3/21/14 – Janesville, WI – The Back Bar
3/23/14 – Richmond, IN – The Firehouse –
3/25/14 – Mckees Rocks, PA – The Dead Horse Music Hall
3/27/14 – Raleigh, NC – The Whisky Room
3/28/14 – Largo, FL – Largo Cultural Center
3/29/14 – Miami, FL – Monsters Of Rock Cruise
3/30/14 – Miami, FL – Monsters Of Rock Cruise
3/31/14 – Miami, FL – Monsters Of Rock Cruise
4/1/14 – Miami, FL – Monsters Of Rock Cruise
4/2/14 – Teaneck, NJ – Mexicali Live
4/3/14 – Philadelphia, PA – The Legendary Dobbs
4/4/14 – Amityville, NY – Revolution Concert Hall
4/6/14 – West Seneca, NY – Rock N' Roll Heaven
6/21/14 – Idaho Falls, ID – Rock The Falls 2014 (w/ Kix, Queeensryche & Others)
Jake E. Lee's Red Dragon Cartel was recorded at the Hideout Studios in Las Vegas. Produced by R. Bernard Mann aka Ronnie Mancuso and Jake E. Lee, and executive produced, mixed and mastered by Kevin Churko (Ozzy Osbourne, Shania Twain, Ringo Starr). The album will be released via Frontiers Records on January 28th 2014.
The band is comprised of lead singer Darren Smith, bassist Ron Mancuso, drummer Jonus Fairley and lead guitarist Jake E. Lee.
The album also features such guests as legendary vocalist Robin Zander from Cheap Trick, original Iron Maiden vocalist Paul Di'Anno, former Pantera bassist Rex Brown, Todd Kearns and Brent Fitz (Slash) as well as current chart toppers like Maria Brink from In this Moment, Jeremy Spencer (Five Finger Death Punch) and Scott Reeder (Tool, Kyuss).
A real band in the truest sense of the word, Jake E Lee's Red Dragon Cartel is about to blast off. This amazing virtuoso guitarist with his new band will once again grace the rock world with the lights shining even brighter.
Setlist includes new material like the singles Feeder and Deceived, as well as major hits from Jake E. Lee's glorious past: Bark At The Moon, The Ultimate Sin (from Jake's Ozzy days), and Dreams In The Dark and High Wire (Badlands).
Watch a performance The Ultimate Sin (San Diego 12/15/13) below.