JAKE E. LEE ON RED DRAGON CARTEL'S QUESTIONABLE LIVE DEBUT: "I BLAME MYSELF BECAUSE WE WERE UNDER-REHEARSED"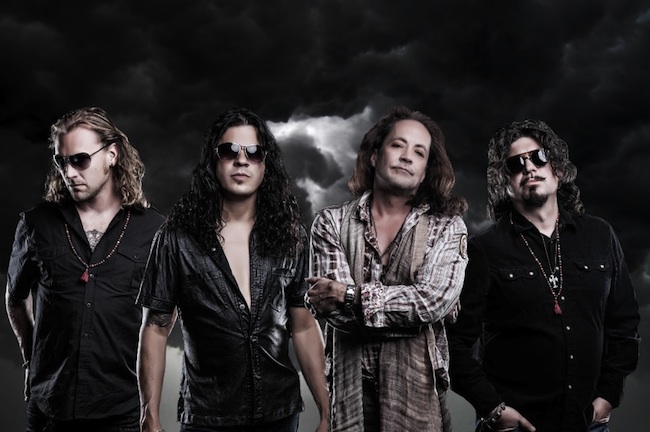 Greg Prato of BraveWords recently spoke with guitarist Jake E. Lee about the reasons for Red Dragon Cartel's underwhelming live debut, several Ozzy and Badlands memories, and his admiration of Tommy Bolin. Portions of the interview appear below.
BraveWords: What were your thoughts of the first show at the Whiskey A Go Go the other night? It seems like fans on the internet were pretty critical of singer D.J. Smith's performance.
Jake E. Lee: "Yeah, I knew that was coming up! (Laughs) Boy, yeah, this is a different age from the last time I played – you had a bad show, you just pretended like it never happened and eventually, it would go away. That doesn't happen anymore. And that's why I was on your site (BraveWords) the other night, I think it was after the San Diego show, I decided to…because I had read all of the stuff that was said about that first show, and I was like, 'OK, we did pretty good in San Diego. I wonder if there is any redemption in us at all.' I think it took me to your site first, with the apology thing from Darren (D.J.). Yeah, that first show, I blame myself mostly, because we were under-rehearsed. The show just kind of popped up. One day, 'You have a show coming up, at the Whiskey.' I was like, 'Really?' So we didn't have time to prepare, because I always wanted to rehearse the band two to three weeks comfortably, to be prepared for the first show. We didn't really have that kind of time – because two of them are Canucks and we had to get visas and get them down here. We ended up having five days to rehearse. The rehearsals were great, but I think we kind of burnt ourselves out, because we would rehearse for like eight hours straight, wake up, come in, rehearse for eight hours – and trying to figure out what songs we would play. You do that for five nights in a row and then have a show the next day, you get a little burnt out, and that's not the way I want to do the first show. So we were a bit burnt. And then we had to wake up in the morning, go down to LA. So everybody was tired. And like I said, these are weak excuses – but it's my fault. I should have put my foot down and actually said, 'Either we're not doing the first show, or we've got to figure out a way we can rehearse for two to three weeks comfortably instead of cramming it all in.' So that first show, a little shaky. And with Darren, he's a lead singer and they're usually cocky – I'm stereotyping, but it's true – lead singers don't get nervous. He admitted to me afterwards, he said, 'I was really nervous. I'm 'Jake E. Lee's new singer;' I'm following in Ray Gillen's footsteps. Our first show is at the Whiskey A Go Go.' He tired to calm himself down with some drinks and it wasn't the ideal first show. But I can guarantee you that that particular performance will never happen again, because Darren…and nobody is going to beat themselves up worse than Darren did, even though there were a lot of attempts on the web! Because they were brutal on him. And he read them. Like I said, nobody is going to kick themselves harder than him. But he got kicked pretty hard. We did the San Diego show, and he didn't have a drink and he was on his game that night. In San Diego, we did a lot better. Yeah, that first show…the good thing about that is it's only going to get better – there's no possible way it could get worse. And so every show after that, it's going to be an improvement. That's trying to look at the good side of things. And we'll never be scrutinized as hard, either, as much as the first show at the Whiskey A Go Go. We're never going to be under that magnifying glass again. Everything is just going to get better from here on out. Because during rehearsals, we sounded great. We had to learn the songs quick and there were mistakes, but they were 'glorious mistakes' – they were mistakes made with a rock n' roll attitude. So I just figured we were going to be fine. But yeah…are we done I hope talking about that first show?" (Laughs)
BraveWords: You mentioned before the break-up of Badlands. To the best of my knowledge, you've never gone on record as to what caused the break-up.
Jake E. Lee: "We all got along great…until the end. By that time, we got dropped by the record label, and we were kind of hurting financially. Because of that, and because I think Ray knew he didn't have a lot of time left (Ray passed away in 1993 at the age of 34, from AIDS-related complications) – even though that was never specifically stated at that time – he kind of started to want to write material that he thought would get us on the radio and make us a bigger band. I was on the other side. I was like, 'I don't give a fuck, I don't care. We don't have to be on the radio. This is a great band, I love playing in this band. I just want to play music. I don't want to play something to try to become something.' Anyway, there is that friction there, and the fact that we weren't making any money. Rehearsals and songwriting, we were in studios, and they're billing us – so we were actually getting in debt. It finally just came to a head one day. I don't remember…I think it was kind of a mutual thing, or Ray said he quit, and I said, 'Fine, you're fired.' It all ended much uglier than it needed to. But I did contact Ray just before he passed. We made up. And I miss Ray to this day – every single day I miss him. Not just as a singer, but as a brother. I'm glad I was able to talk to him before he left. In fact, I called him when he was in the hospital, and I wasn't able to actually talk to him – I talked to his cousin, who was in the room with him. Because by that time, he wasn't able to speak. But she told me – because they had discussed it before – that he wanted to get back. He told her, 'I miss Jake. We were a good team, and I hope someday Jake will call.' So then when I did call, she was all excited. He was very happy that I called, and I told her, 'Tell him I miss him. Let's do something – when he gets out of the hospital, we'll get together and start working on something new.' He was excited about that. But he never got out of the hospital."
BraveWords: I seem to recall rumors that there was talk of an Ozzy reunion sometime back in the '90s?
Jake E. Lee: "At one point, I think it was in the mid '90s, Sharon was in town and called me. And I hadn't talked to her since…when I got fired. She said, 'Jake, how are you doing? Let's get together.' Because I have a daughter, and she has daughters, and they kind of grew up together during the Ozzy years. She said, 'Let's get together and have lunch.' So I went over there and we talked, but that never came up. I guess just the fact that we were talking may have helped spread that rumor. But right around 2005 or so, I think she called me again, and just out-and-out asked me, 'Would you be interested in playing some shows and maybe doing the next record with Ozzy?' I just wasn't prepared for that. She threw me off balance, and I said, 'Well, that's a lot to think about. Can you call me back tomorrow? Give me 24 hours to figure it out.' She said sure, and she called, but I still hadn't figured it out, so I didn't answer. (Laughs) So I figured she'd call the next day, but she never called back. But I don't think it would have worked anyway, because by that time, I figured out, 'OK. I'll consider doing that but I want credit for Bark at the Moon – I want credit for all the songs I wrote.' That would have been my stipulation. So although I never got a chance to say it, I'm sure things wouldn't have worked out, because I don't think she's prepared to give that up for some reason – I don't know why. But that's when they were having a lot of problems with Zakk (Wylde), and it might have even just been a case of where she wanted to go to Zakk and say, 'I talked to Jake…get your shit together.' That might have been the reason for that call. Who knows? I don't know."
BraveWords: A few years ago, I did a book about ex-Deep Purple/James Gang guitarist Tommy Bolin (Touched by Magic: The Tommy Bolin Story), and I seem to remember once hearing you were a big fan.
Jake E. Lee: "Tommy was the reason why I wanted to get a Strat. I just loved him. When I was in a cover band in San Diego, we became probably the biggest cover band in San Diego at that time, and it was called Teaser – because that was his first album title. Yeah, he was a huge influence on me. I loved his tone. I even saw him with Jeff Beck in San Diego on that tour where he ended up OD'ing (in 1976). I saw him on that tour. And my big regret is I knew this girl who knew people backstage, and she said, 'I can get you back there. Do you want to meet Tommy?' And I was feeling all bashful all of a sudden. 'Maybe next time.' And, there was no next time. So I have a big regret that I didn't just man up and go backstage and meet him. I wish I had."
Read more at BraveWords.