JACKYL CELEBRATE SILVER ANNIVERSARY WITH "25" AND TOUR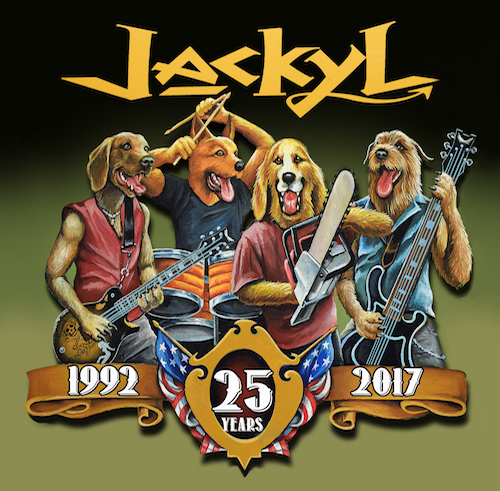 It's an incredible accomplishment when a rock band has been successful enough to reach the 25-year mark since the release of their first album. And this year, raunchy southern rockers Jackyl have accomplished this feat, and are celebrating with an appropriately-titled compilation, 25, which drops July 28th through Mighty Loud Records.
The 18-track set (which can be preordered via the band's official site, (jackyl.com) features such Jackyl radio hits as Down on Me, The Lumberjack, Push Comes to Shove, and Favorite Sin, as well as two previously unreleased tracks – a live rendition of Redneck Punk, as well as a cover of Black Oak Arkansas' Hot and Nasty.
"At the time we first hit the scene, we were told by quite a few interviewers and fans that we sounded like a cross between Black Oak Arkansas and AC/DC," explains Jackyl. "While we was very familiar with AC/DC, we were not with BOA. We went back and listened, and were blown away – so much so, that we recorded a cover of one of their most kick ass tunes, Hot and Nasty, which is now finally getting its release on this comp."
"With this compilation, we are celebrating 25 years of Jackyl rock n' roll – the fundamentals of rock n roll," adds Jesse. "And beware – we are not slowing down anytime soon."
25 Tracklisting:
Down on Me
When Will It Rain
The Lumberjack
Push Comes to Shove
Secret of the Bottle
Dumb Ass Country Boy
Cut the Crap
Kill the Sunshine
My Moonshine Kicks Your Cocaine's Ass
Just Like a Negro (featuring DMC)
Screwdriver
Encore
Favorite Sin
Rally
Just Because I'm Drunk
Redneck Punk (Live) – previously unreleased
Hot and Nasty – previously unreleased
First bursting upon the scene with their self-titled, platinum-certified debut album in 1992, Jackyl has made a name for themselves as a killer live band that delivers night after night, and has continued to offer up good old fashioned blues boogie over the years, as evidenced on such subsequent albums as 1994's gold-certified Push Comes to Shove, all the way to their most recent release, 2016's Rowyco.
Tour dates:
August:
10 Sturgis SD Full Throttle Saloon
25 Sterling Heights MI Michigan Lottery Amphitheatre @ Freedom Hill
26 Franklin OH J.D. Legends
September:
2 Milwaukee WI National H.O.G. Rally/Milwaukee Rally
8 Hinckley MN Grand Rocktember V Music Festival
14 Ocean City MD Cowboy Coast Country Saloon
15 Heath OH Muddy Creek Saloon
16 Sunrise Beach MO Pickleheads Roadhouse (Lake of the Ozarks Bikefest)
21 Augusta GA The Country Club
22 Savannah GA The Stage on Bay
23 Cocoa Beach FL 80's in the Park
November:
17 Sioux City IA Anthem at Hard Rock
18 Watseka IL Watseka Theatre
21 Cincinnati OH Bogart's
24 Indianapolis IN 8 Seconds Saloon
25 Green Bay WI The Green Bay Distillery
26 Dubuque IA Q Casino
December:
1 Flint MI The Machine Shop
For more information, please visit jackyl.com.