"JACKASS" DIRECTOR REPORTEDLY HIRED TO DIRECT MOTLEY CRUE'S "THE DIRT" MOVIE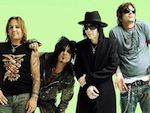 Motley Crue have hired Jackass director Jeff Tremaine to work on the movie version of their infamous autobiography The Dirt.
A big-screen version of the 2001 book is one of the three projects the band have vowed to complete before retiring. Bassist Nikki Sixx said earlier this year they'd "blow their brains out" following the movie, a final album and a farewell world tour.
Tremaine directed the cult Jackass series on MTV since its 2000 debut.
He tells Deadline, "I've been offered a lot of scripts but The Dirt is something I pursued with everything I had. I've wanted to make this going back to 2001. I put everything I had into chasing it and convincing everyone that I am the right guy for it. I really feel I am."
No further details are currently available.
Meanwhile, Crue vocalist Vince Neil says he'd like to appear in a future series of reality show Celebrity Apprentice, but insists rumors that he's already signed up are untrue. "I met with the producers and the network and stuff," he explains. "That's all I ever said, that I'm up for it.
additional source: classicrockmagazine.com