IN CELEBRATION OF ITS 30TH ANNIVERSARY, DEF LEPPARD GUITARIST PHIL COLLEN DISCUSSES "HYSTERIA"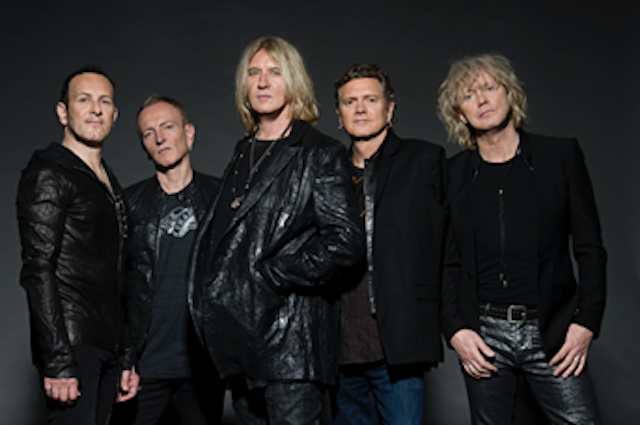 Greg Prato of Bravewords spoke with Def Leppard guitarist Phil Collen about the 30th anniversary of the band's multi platinum selling album, Hysteria. Highlights from the interview appear below.
BraveWords: Was there any point during the recording of Hysteria that it got a bit maddening or frustrating working with Mutt Lange?
Phil Collen: No. All the stuff with Mutt was a joy and totally inspirational. It was all the stuff that we did prior to that. Jim Steinman and different kind of engineers and doing all of that stuff – that was the frustrating part. You've got to understand – we wrote all the songs with Mutt, and the vision of the album, and the whole concept of it, was his. And when other people were around, they couldn't do that, because they had no clue. But when he was involved…he had to do a Cars album [1984's Heartbeat City], he was committed to doing it, and had to disappear for like a year. So, when he came back, that was a joy, I've got to say. Because all of a sudden, it all started flowing, and it was so inspiring. And we were doing something we had never done before – or anyone has. It's almost like creating a new genre of music. It was like a rock band, but it had all these different elements in it. Elements from new wave, punk, funk, rap music – Pour Some Sugar On Me was almost like a rap lead vocal kind of meter…It was a wonderful hybrid. And when Mutt was around, he could be part of that thing. It was enthusiastic, it was totally inspired. Yeah, it was a lot of hard work obviously, and I'd been there the whole time. It was grueling, but like I said, with Mutt at the helm, it was great – because you had this faith in this guy. It was really cool.
BraveWords: After all the tragedy, drama and studio time, when Hysteria was unleashed upon the world, it fell flat – the lead-off single/video, Women, seemed to go over people's heads. Was the band worried out of the gate?
Phil Collen: What happened was our record company in America wanted to release Animal [as the first single]. But Cliff Burnstein – our manager at the time – was scared that it was such a departure from Pyromania and everything else that we'd done, that we would need a bit of credibility. So, he said, "I think we should release a rock song first." Hence, Women came out. It was great in that respect – keeping the credibility. But from a commercial point of view, yeah, it wasn't the best move. It ended up working great, anyway, because obviously, the single that eventually followed, Pour Some Sugar On Me, changed the whole scenery. Completely. So, it wasn't a worry – it was disappointing for us. Y'know, playing half-empty arenas after we'd just done the Pyromania tour three years prior, and we were jam-packing them out. That was a struggle – we had to claw our way back up. But when the fourth single came out, Sugar, it all changed. And then all of a sudden, everyone is loving us. It's an interesting portrayal of human behavior and how people react to that. It's a very interesting thing.
BraveWords: How different would you say the rock scene was, from say, the end of the Pyromania tour to when Def Leppard started touring behind Hysteria?
Phil Collen: Ironically, all the stuff that came out after Pyromania – to me – sounded directly influenced by that album. All of a sudden, you had bands…everything from the Scorpions, Bon Jovi, Ratt – everything was influenced by that. Drum sounds, all the engineers and producers were trying to recreate that. When we started to do Hysteria, Mutt said, "Look. Everybody else is doing Pyromania Part II – we have to do something drastically different. But it's going to take a lot of hard work. And it means we're going to have to do more than we normally do, the songs have got to be better, and it's going to be some different kind of music." That's really what we did. And I think you could hear that. You could hear that on other albums – as you did after Hysteria. After it broke, then everyone is trying to do that. There were a million Pour Some Sugar on Mes, there was a million Love Bites, there was a million Hysterias, there was a million Women. The snare sound and the kick – all of that. I even heard my voice sampled on other records. From the "Step inside, walk this way…" – all of that stuff, you could hear it on other records. "Hey!" – all of that stuff. It was like, "Wow, I'm on this album, I'm on that album. This is interesting!"
Read more at Bravewords.
In celebration of the 30th anniversary, Def Leppard will re-release Hysteria on August 4th. It will be come in various formats-Super Deluxe Edition, Deluxe Version, 1 CD Vanilla Version, 2-LP Black Vinyl Version, & limited edition 2-LP Colored Vinyl Version. The reissue boasts B-sides and live tracks, plus the audio for In The Round In Your Face (Live) on CD for the first time.
To read more about this special release, please click here.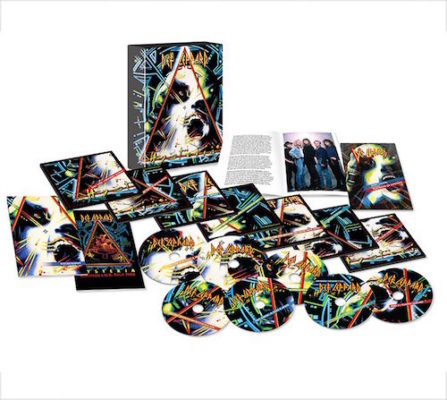 source: bravewords.com