HOW JAZZ GUITARIST DJANGO REINHARDT HELPED TO SHAPE BLACK SABBATH'S SOUND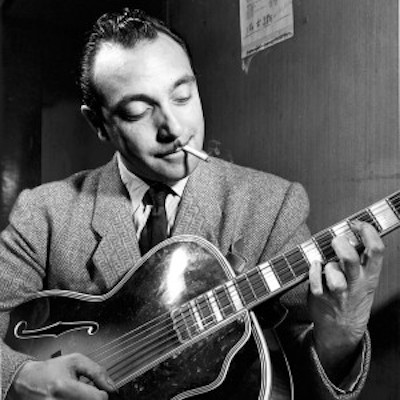 Hardeep Phull of the New York Post reports:
Jazz lovers know that gypsy guitar virtuoso Django Reinhardt was one of the genre's stars during the '30s and '40s — a fact that will be celebrated on today at the 10th annual Django a Gogo tribute concert at Carnegie Hall.
But decades later (and well after his own death in 1953), Reinhardt's lightning fingers inadvertently helped inspire the first notes of heavy metal.
During the mid-1960s, a young British guitarist named Tony Iommi (later of Black Sabbath) was working his last day at a factory when a freak accident tore off the tips off his middle fingers. He thought his budding career as a musician was over, until his foreman visited him in the hospital and told him about Reinhardt, who himself relearned to play guitar after a fire in 1928 left two of his fingers paralyzed. "It really inspired me to really get on with it, and start trying to play," Iommi told VH1 in 2015.
One of Iommi's innovations was to detune the guitar, making the strings softer for his fingers, but also giving the guitar a darker, more aggressive tone. That would later become a hallmark of Black Sabbath, and define the sound of heavy metal.
"All the great artists and guitar virtuosos listen to Django," Stephane Wrembel tells The Post. "He basically invented the foundation for modern guitar." Wrembel, himself a gypsy jazz musician who has worked with Woody Allen on films such as "Vicky Cristina Barcelona" and "Midnight in Paris," started Django a Gogo 10 years ago. Back then, it was a smaller event held at Barbes, in Brooklyn, but has now expanded across the country. Friday's event is the first to be held at Carnegie Hall, and will feature jazz heavyweights such as Al Di Meola and Larry Keel.
But Wrembel insists that Reinhardt's music isn't just something for music scholars and historians to marvel at. "You don't have to be a musician to love Django," he says. "If you are, his technique blows your mind. If you're not, you have a good time with it anyway!"
source: nypost.com