HOOKERS & BLOW, FEATURING THE COMEDY OF "THAT METAL SHOW" CO-HOST DON JAMIESON, TEXAS DATES ANNOUNCED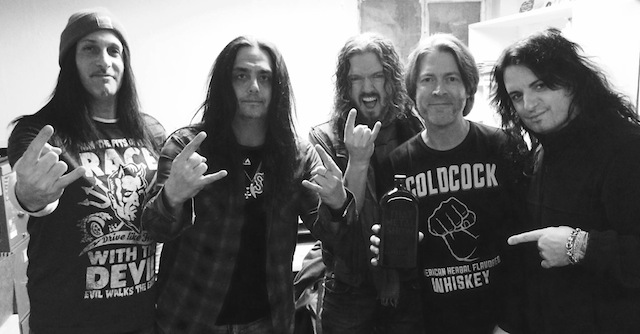 Hookers & Blow, the band featuring Guns N' Roses keyboardist Dizzy Reed and Quiet Riot guitarist Alex Grossi have announced an east coast run of dates kicking off on May 25th Ft. Worth, TX. Rounding out the HN'B line-up will be W.A.S.P. & Hotel Diablo bassist Mike Duda and Type O Negative/Danzig drummer Johnny Kelly along with an array of special guests.
This will be the first time Hookers & Blow will perform in Texas since the band formed over a decade ago and will be the last HN'B shows before Guns N' Roses embarks on their Not In This Lifetime U.S. tour and Quiet Riot gets their U.S. summer tour season underway –
Don Jamieson will be joining Faster Pussycat for their 30th Anniversary Celebration – The Dirty 30 Tour which is set to begin in LA in mid August.
Hookers & Blow hosted two residencies at the landmark Whisky A Go Go in Hollywood in 2013 with guest musicians that included members of Marilyn Manson, The Cult, Quiet Riot, W.A.S.P., Ignite, Alice Cooper, T.S.O.L, Ace Frehley & More…
Confirmed dates are as follows:
Hookers & Blow "Texas Takeover" tour dates:
5/25/16 – The Rail Club – Fort Worth, TX
5/26/16 – City Limits – Oklahoma City, OK
5/27/16 – Concert Pub North – Houston, TX (Featuring Don Jamieson)
5/28/16 – The Rock Box – San Antonio, TX (Featuring Don Jamieson)
5/29/16 – TBA – Austin, TX
For more information, visit facebook.com/HNBMerch.