HOOKERS & BLOW, FEATURING DIZZY REED OF GUNS N ' ROSES, RELEASES FIRST EVER STUDIO SINGLE AS A FREE DOWNLOAD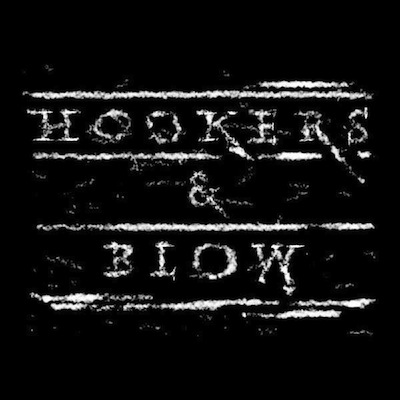 Hookers & Blow, the band featuring Guns N' Roses keyboardist Dizzy Reed and Quiet Riot guitarist Alex Grossi, have released their first ever studio recording, a cover of the Elton John classic Saturday Night's Alright for Fighting.
The track is currently available as a free download starting on October 22nd, exclusively online and in-store at Forgotten Saints L.A..
The band recruited veteran producer Ron Mancuso (Iggy Pop, Ace Frehley, Jake E. Lee) and features drummer Les Warner, best known for his iconic drumming on The Cult's critically acclaimed album Electric as well as session work for Johnny Thunders & Julian Lennon, Bow Wow Wow among others)
"We figured we might as well record a cover song that has been a staple in our live set since the band's inception in 2004 and give it away with the newest line of Hookers & Blow merchandise" says guitarist Alex Grossi. "We are very excited to have taken the Hookers & Blow brand to where the whole concept has become somewhat legendary over the past decade. The one thing that has been constant throughout, is the demand for new merchandise and recorded music, So we figured, let's kill two birds birds with one stone and release both at the same time…"
Hookers & Blow has also just announced a string of December tour dates, including an In-Store Hollywood Holiday party at Forgotten Saints LA on Friday, December 23rd, followed by a live performance at the legendary Whisky A Go Go later that evening.
The band is currently in negotiations with multiple labels to put out a full-length cover record as well.
Forgotten Saints online store ships worldwide from its world-renowned Melrose Avenue boutique in Hollywood, California.
For more information about Hookers & Blow, please visit the band's Facebook page.
Hookers & Blow tour dates:
12/2 Tony V's Garage Everett, WA
12/3 Rock Hard PDX Portland, OR
12/21 St. Rocke Hermosa Beach, CA
12/22 Maui Sugar Mill Saloon Tarzana, CA
12/23 Forgotten Saints LA (In Store Appearance) Hollywood, CA (6pm)
12/23 Whisky A Go Go – Hollywood, CA (10pm)