BASSIST MICHAEL ANTHONY TELLS EDDIE TRUNK HE SPOKE WITH ALEX VAN HALEN, THEIR FIRST CONVERSATION IN MORE THAN A DECADE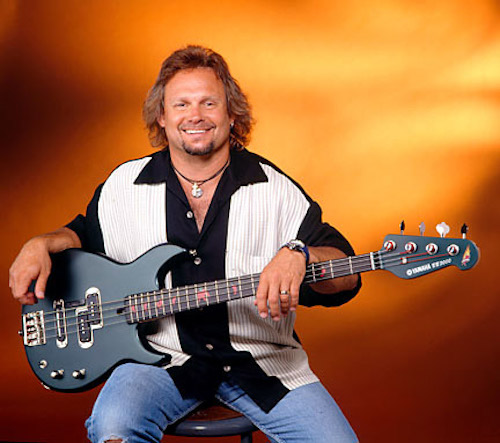 Bassist Michael Anthony was a recent guest on Eddie Trunk's Sirius/XM show, Trunk Nation heard on the newly launched, Volume channel.
When asked when the last time the bassist had any contact with his former bandmates, the Van Halen brothers, Anthony responded (as per blabbermouth.net), "You know what? This is pretty interesting. There's a mutual friend of Alex's and mine. His name's Craig DeFalco. And this is a guy who was a tech for me for a while, and he actually was Eddie's tech… I don't know if it was the 2007 tour, but he teched for him one of the tours. And he stays in touch with Alex, basically. I got a relatively new place out there at the beach in Southern California, and this guy Craig, he had never seen my house, so he came out. He was on tour with Lenny Kravitz or someone, doing… teching and had a break. And so we went out on my boat. I'm, like, 'Yeah, we'll cruise you around the bay and you can check the place out.' So, as it goes, I had a couple of cocktails, and next thing you know, we were talking about the band and the good old days and all that stuff. 'Cause he did, I think, at least two or three Van Halen tours with me back in the '80s. So we're talking, and next thing you know, I've got him holding his iPhone up and I'm shooting a video going, 'Hey, Alex, man…', just talking about the good times and everything that's going on now. All these heroes of ours, people I grew up listening to, they're, like, starting to drop left and right now. It's, like, 'Oh, my God!' And so later on, we were at my house, my buddy and myself, Craig, and his phone rings, and it was Alex. And he's, all, 'Hey, tell Mike I said hi.' Next thing I know, [Craig] is handing me the phone and goes, 'Here, Al wants to talk to you.' And I'm, like, 'What?' And this was this past May. And I hadn't spoken to Alex in, like, ten years, I think — ten or eleven years."
While Anthony explained that "nothing heavy" was discussed during his conversation with Alex, Michael added, "But it was just great to talk to him. We talked for about twenty minutes, and had a great conversation — just about life in general and getting older and what's going on around us in the music industry. And it was actually really great talking to him."
…When asked if he still thinks there is "unfinished business" between him and Van Halen and if he believes there is a chance that he will reunite with his former bandmates one day, Anthony told Trunk, "You know what? In some ways, I'm kind of over it, only because you can only hold your breath for so long. But it's kind of interesting that you say 'any unfinished business,' Van Halen being one of the biggest bands there ever was, it's kind of sad to see how everything kind of dwindled down like it did, kind of with a whimper. Which, this band, if we were gonna go out, we should have gone out killing it all over the world. And, you know, I'm always a never-say-never guy. If the circumstances were right, I have no problem… I love going out and playing the music. And if we did it, though, it would have to be none of this four separate planes and four separate this and that, and you only see them on stage. It's gotta be kind of like… I don't know if it can ever be a brotherhood like it was before."
Listen to more below.