HELLYEAH RELEASE NEW VIDEO FOR "OH MY GOD" OFF NEW ALBUM, "WELCOME HOME"; NEW TOUR DATES ANNOUNCED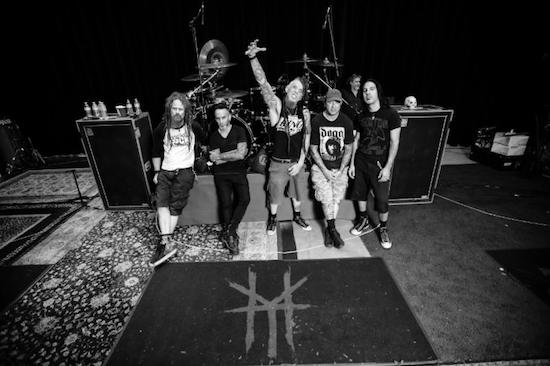 Hellyeahcelebrated the life of their brother, and bandmate, Vinnie Paul in May with an emotional sold-out concert in Las Vegas, where the band made their initial mark towards their Vinnie Paul campaign for the American Heart Association. The band will continue to honor their late bandmate by donating a portion of ticket sales from their upcoming tour in his memory, in hopes of raising over $10,000 for AHA. Watch the video for Oh my God, below
By teaming up with the American Heart Association, Hellyeah will raise early awareness for heart disease after it claimed famed drummer Vinnie Paul at 54. The hard rockers of Hellyeah are turning to healthier ways as they mourn their friend. "Vinnie's passing was a wake-up call for us all," said guitarist Tom Maxwell. Heart disease is the number one cause of death globally. As an issue that affects their fans and families every day, Hellyeah are hoping to help save lives, and are changing their own in the process.
In addition to this initiative, Hellyeah will also be hosting a text to donate campaign during each of their upcoming tour dates: fans can text VINNIE #41411, or head to a special CrowdRise page where fans can also donate to help fight heart disease.
Bassist Kyle Sanders says, "Everyone can make some kind of change for the better. It's never too late." For more information on the American Heart Association interview with Hellyeah, click here.
The latest 18-city headlining summer outing will begin on July 23rd, in Atlanta, and will culminate in a special hometown celebration on August 17th, in Dallas, Texas. They recently added a new festival date, Blue Ridge Rock Festival at DeVault Vineyards in Concord, VA, on September 7. Tickets are available here. Full routing below.
Hellyeah 2019 tour dates: w/Nonpoint

July 23 – Atlanta, GA – Buckhead Theatre
July 24– Myrtle Beach, SC – House of Blues
July 26 – Silver Springs, MD – The Fillmore
July 27– Inwood, WV – Shiley Acres
July 28 – Boston, MA – House of Blues
July 30 – Stroudsburg, PA – Sherman Theater
July 31 – Cleveland, OH – House of Blues

August 1– Green Bay, WI – The Green Bay Distillery (Sold Out)
August 3 – Denver, CO – Summit
August 4 – Sturgis, SD – Iron Horse Saloon
August 7– Minneapolis, MN – Varsity Theater
August 8 – Chicago, IL – House of Blues
August 10– Detroit, MI – The Fillmore
August 11– Grand Rapids, MI – 20 Monroe Live
August 13 – Wichita, KS – The Cotillion
August 14 – Oklahoma City, OK – Diamond Ballroom
August 16– Houston, TX – House of Blues
August 17– Dallas, TX – House of Blues

2019 Summer Festivals:

September 7, 2019 – Concord, VA – Blue Ridge Rock Festival

*More dates TBA.
For more information visit:

Website
Facebook
Instagram
Twitter