HELIX FRONTMAN BRIAN VOLLMER DISCUSSES NEW ALBUM "OLD SCHOOL"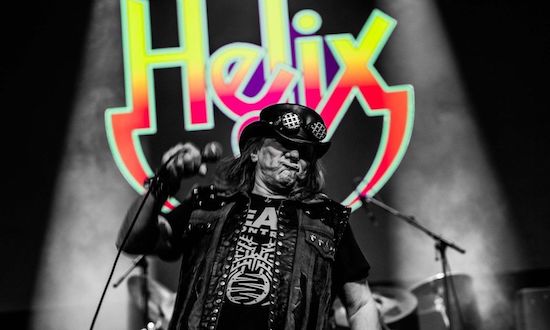 Ruben Mosqueda of Rock Confidential spoke with Helix frontman Brian Vollmer, who is currently promoting the new album Old School. Portions of the interview appear below.
Rock Confidential: What's the origin of the band's name? It's a scientific reference, you're far from a "proggy" act.
Brian Vollmer: Back in 1974 we needed a name. The founder of the group, Bruce Arnold, was still going to school. He picked it out of a science textbook. My choice was The Windhurst Lightning Machine. I got out-voted. [laughs].
Rock Confidential: It's been about five years between albums. With the change in the way people consume music, was that a factor in the gap between albums?
Brian Vollmer: Actually, not completely true… we released The Devil Is Having A Party Tonight [with the b-side: The Tequila Song] two years ago on vinyl. I also recorded a solo album called Get Yer Hands Dirty with Grammy and Juno award winning Gavin Brown producing and playing drums [CD and vinyl], released Rock It Science – a "best of" CD with unreleased tracks, Gene Simmons Says [Rock Is Dead] and All I Want For Christmas Is The Leafs To Win The Cup, re-released Breaking Loose and White Lace And Black Leather on Progaor Records. We recorded The Story Of Helix [unreleased except to Facebook and Youtube] and I've probably forgot some of the other stuff, like Smash Hits Unplugged.
Rock Confidential: You have a new album titled Old School. There's a heavy helping of the late [guitarist] Paul Hackman on this album; you dedicated this record in his memory. Did you just unearth his recordings and these songs written by Paul?
Brian Vollmer: No, always knew I had 'em. I've been working with other writers since about 1996. I'd worked with the likes of Sean Kelly, Gord Prior, Steve Georgakopoulos and others, but cleaning out my basement regurgitated my memory of them.
Rock Confidential: The tunes on Old School have a classic Helix, no frills, rockin' sound.
Brian Vollmer: I completely agree. We're a rock band and we don't pretend to be anything but. Great assessment.
Rock Confidential: Helix had a number of choice opening slots over the years. What was one of the best or most memorable tours? Which was the most challenging, and why?
Brian Vollmer: There's been a few. Europe in '83 opening for KISS on the Lick It Up tour, the Another Perfect Day tour with Motorhead across the U.S., touring with Whitesnake and Quiet Riot across the U.S. in '84, Ian Gillan in '89, there's too many to remember. I enjoyed them all, but I think I liked working with Lemmy the best. It was also the most challenging, partially because of [Motorhead guitarist] Brian Robertson who was a real d–khead. Almost got into a fist fight with him at The House of Guitars in Rochester, N.Y. He was so f–ked up!. So much so, that I don't think he would remember… [laughs].
Rock Confidential: Helix… a hard rock band or a metal band?
Brian Vollmer: F–k, who knows?! Is Bon Jovi a hard rock, metal, or country band? I guess it depends on the song [laughs].
Rock Confidential: Helix is one of the bands that came out of the 80's that had the songs, were consistently good live, but somehow didn't get exposed to the masses. In your opinion, why did this exposure allude Helix?
Brian Vollmer: All I can say is the universe gives you things when it's ready, not when you want them.
Listen to song Coming Back With Bigger Guns, below.
Read more at Rock Confidential.
Old School is out now through Perris Records. For more information about Helix, visit the band's Facebook page.